Kripalu Recipe: Banana-Oat Bran Muffins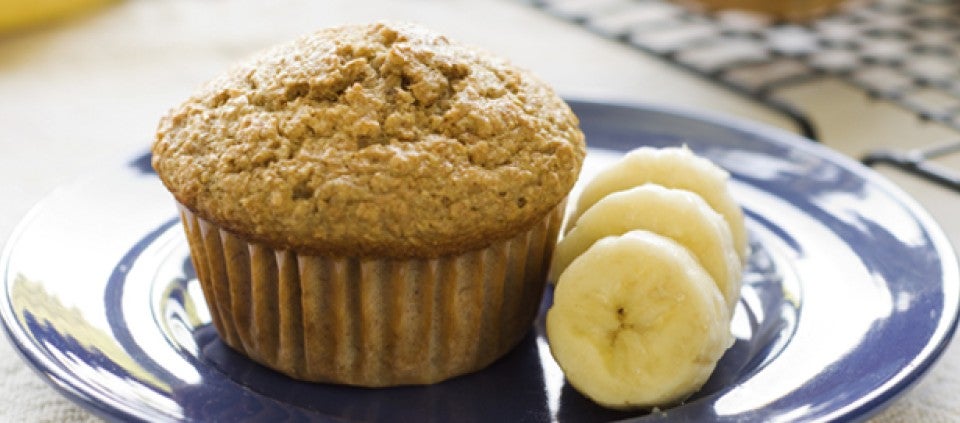 These delicious muffins are so chock-full of nutrients they're sure to keep you at a steady and content energy level throughout your morning.
Makes 12 muffins
2 tablespoons flaxseed meal
1/4 cup water
1 2/3 cups oat bran
1 cup oat flour
3/4 cup whole-wheat pastry flour
2/3 cup chopped walnuts
1 1/2 teaspoons baking powder
1 1/4 teaspoons baking soda
1/2 teaspoon sea salt
2 cups lightly mashed ripe bananas
1/4 cup sweetened soy milk
1/4 cup sunflower oil
1/2 cup maple syrup
Preheat oven to 375 degrees. Grease muffin tin thoroughly or line with paper or foil muffin cups.
In a small container, combine flaxseed meal and water and let soak for 30 minutes.
Combine the oat bran, oat flour, pastry flour, walnuts, baking powder, baking soda, and salt in a large mixing bowl; make a well in the center and set aside.
Combine soaked flaxseed meal, bananas, soy milk, oil, and maple syrup in a medium bowl. Pour into the well in the flour mixture. With a wire whisk, stir in a circle, starting in the center, gradually incorporating the outer dry ingredients. Spoon batter evenly into muffin tins.
Bake until muffins are golden brown, about 20 to 25 minutes. Let muffins cool in the pan before removing.