Kripalu Recipe: Broccoli and Cheddar Quiche with Quinoa Crust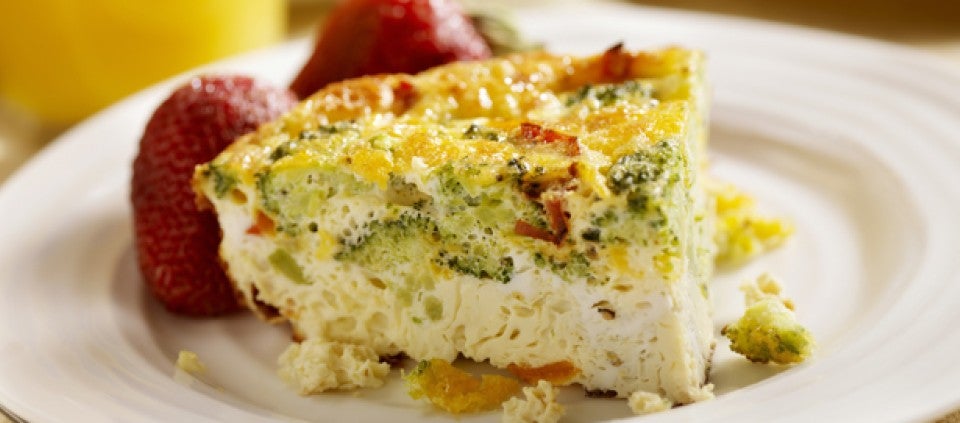 We love this simple and gluten-free version of quiche. The quinoa magically sinks to the bottom of the dish to create a delicious, thin crust.
Makes one 9x13-inch quiche; serves 6–9
1 cup quinoa
2 tablespoons extra-virgin olive oil
1 Spanish onion, diced
1 tablespoon chopped garlic
4 cups medium-sized broccoli florets
12 eggs
2 cups whole milk
2 tablespoons fresh thyme leaves
1/2 teaspoon sea salt
Pinch of black pepper
1 cup grated cheddar cheese
1/4 cup grated Parmesan cheese
Rinse the quinoa well and set aside to drain.
Heat the olive oil in a sauté pan over medium heat. Add the onion and garlic and sauté until onion begins to brown, about 8 minutes. Add the broccoli and sauté for 1 minute, then turn off heat. Broccoli should still be crunchy. Cool slightly. Transfer the mixture to a lightly oiled 9x13-inch casserole dish and spread out evenly.
Sprinkle the cheddar cheese evenly over the vegetable mixture.
Combine the eggs, milk, thyme, salt, pepper, and rinsed quinoa in a large bowl and whisk until thoroughly combined. Pour immediately over the cheese-topped vegetable mixture.
Bake casserole in a 350-degree oven until cooked through and the top is just starting to brown, about 40 minutes. Remove the casserole from the oven and sprinkle the Parmesan cheese over the top. Return the casserole to the oven and bake until the Parmesan cheese is melted and just starting to brown, about 5 more minutes.
Let the casserole sit at least 10 minutes before serving.