Kripalu Recipe: Butternut Squash and Spicy Cilantro Pesto with Shrimp or Tofu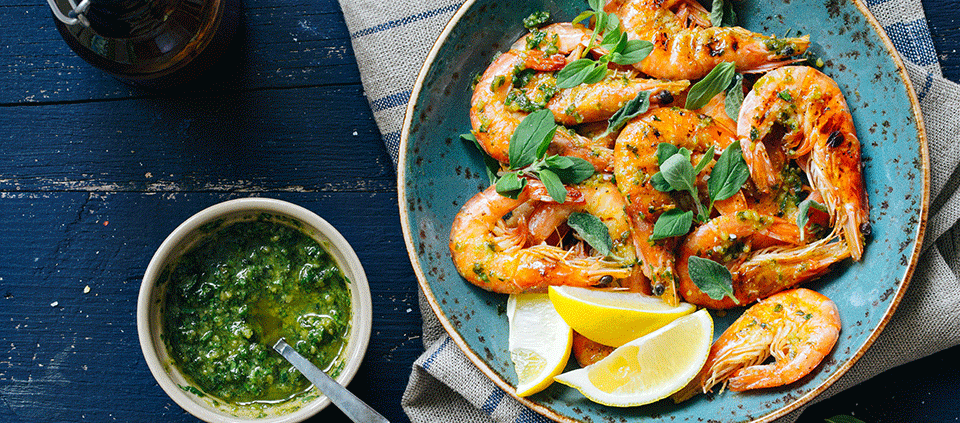 The fabulous flavor combo of cilantro, pumpkin seeds, and squash adds bounce to shrimp or tofu. Cilantro is rich in minerals, vitamins, and antioxidants, and has shown anti-diabetic, cholesterol-lowering, and anti-inflammatory effects in early studies. Pumpkin seeds are a great source of minerals and trace minerals, most notably zinc and magnesium.
Serves 4
1 pound 16/20 jumbo shrimp, peeled and deveined, or 1½ pounds firm tofu
Marinade for Tofu
½ cup white wine
½ teaspoon salt
Squeeze of lime
1 tablespoon olive oil
2 cups butternut squash, cut in small-sized dice
Spicy Cilantro Pesto
2 cups fresh cilantro, washed well
¼ cup pumpkin seeds, toasted
½ cup olive oil
2 cloves garlic
1 tablespoon lime juice
½ teaspoon salt
Pinch of chili flakes
¼ cup parmesan (optional)
To make pesto: Place all pesto ingredients into food processor and puree. Set aside.
For shrimp: Pat shrimp dry and lightly season with salt and pepper to add flavor and prevent sticking in the pan. Heat a medium-sized sauté pan with 1 tablespoon oil and sear shrimp for approximately 1½ –2 minutes per side. Remove from pan and reserve.
For tofu: Rinse tofu, pat dry, and cut into 1-inch cubes. Mix wine, salt, and a squeeze of lime and warm in a small pot. Cover tofu in warm marinade and allow to sit for 1 hour.
Heat a medium-sized sauté pan with 1 tablespoon of olive oil, and sear tofu cubes for 5 to 8 minutes, turning once. Remove from pan and set aside.
Reheat the sauté pan and add the squash. Sauté squash until it becomes tender and starts to caramelize, about 6 minutes. Once squash is caramelized, add shrimp or tofu. Cook for 1 minute to warm; be careful not to overcook the shrimp. Remove from heat and toss with pesto. Serve over quinoa.