Kripalu Recipe: Caramelized Fennel with Goat Cheese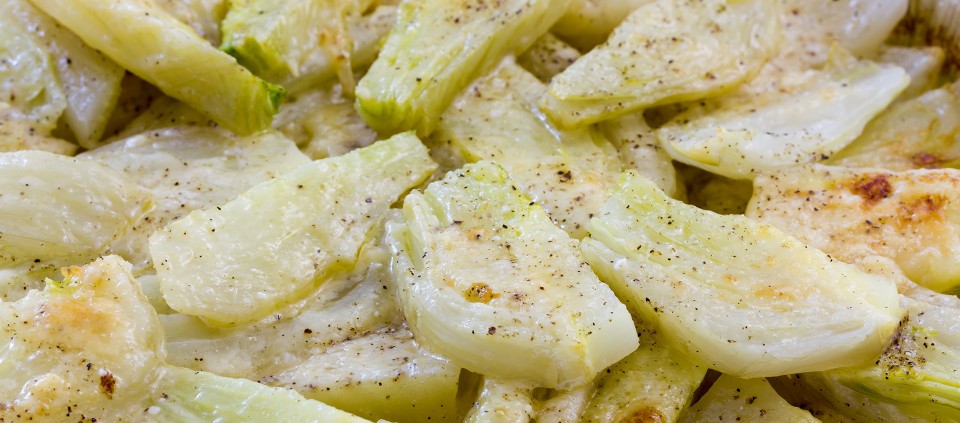 Underrated in this country, fennel is relished by the Italian and has some great nutritional benefits, including aiding digestion and providing necessary vitamins and nutrients. It's a good source of fiber and the antioxidant vitamin C, which contributes to immune function. What better way to acknowledge this gastro-wonderful country than by spreading the word about fennel?
2 tablespoons olive oil
½ onion, sliced
1 fennel bulb, sliced
¼ teaspoon sea salt
1 tablespoon sweetener of choice (organic sugar, maple syrup, or agave)
¼ cup soft goat cheese
2 tablespoons pomegranate seeds to garnish
In a large pan, heat the olive oil at a medium temperature until it starts to shimmer. Add the onions, and sauté until they start to brown, about five minutes. Add the sliced fennel bulb and continue to sauté for a minute, then add the salt. Continue to sauté until the fennel becomes tender. Add the sweetener and continue to sauté, adding a splash of water if everything is beginning to stick too much.
When the fennel is nicely caramelized, top with dollops of goat cheese. Allow the heat to soften the goat cheese. Remove from heat and garnish with the pomegranate seeds (and/or chopped fennel top)