Kripalu Recipe: Celery Root and Parsnip Puree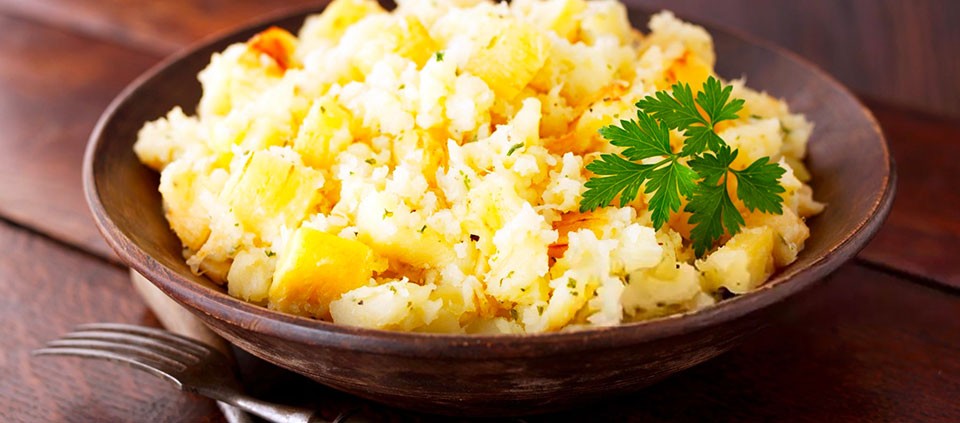 November 17, 2020
Ingredients
2 1/2 cups celery root, peeled and roughly chopped into 1-inch cubes
2 1/2 cups parsnips, peeled and cut into roughly 1-inch pieces
4 tablespoons butter, ghee, olive oil, or vegan butter alternative
1 teaspoon salt
¼ cup milk or dairy-free milk (optional)
2 tablespoons parsley, chopped
Instructions
In a large saucepan add celery root and parsnips and just enough water to cover the vegetables. Add a pinch of salt, cover, and bring to a boil. Once boiling, remove the lid and reduce to a simmer. Continue to cook for 10–15 minutes or until the vegetables are fork-tender.
Once cooked, remove from the stovetop and—using a lid to hold veggies in the pot—drain out as much of the cooking liquid as you can and reserve for later use. Place the vegetables in a colander in the sink to drain completely.
Place the saucepan onto the stovetop and add butter/olive oil, salt, and milk (if using milk turn burner on to low to warm.) Place vegetable into the saucepan with a ½ cup of the reserved cooking liquid and then mash using a masher or firm whisk until smooth. Add more liquid until the puree's consistency is firm yet almost creamy like risotto. Mix in parsley, adjust seasoning with salt if needed, and serve.
Jeremy Rock Smith, Kripalu faculty and a graduate of the Culinary Institute of America, began his career in classical French cuisine.
Full Bio and Programs