Kripalu Recipe: Chicken Cacciatore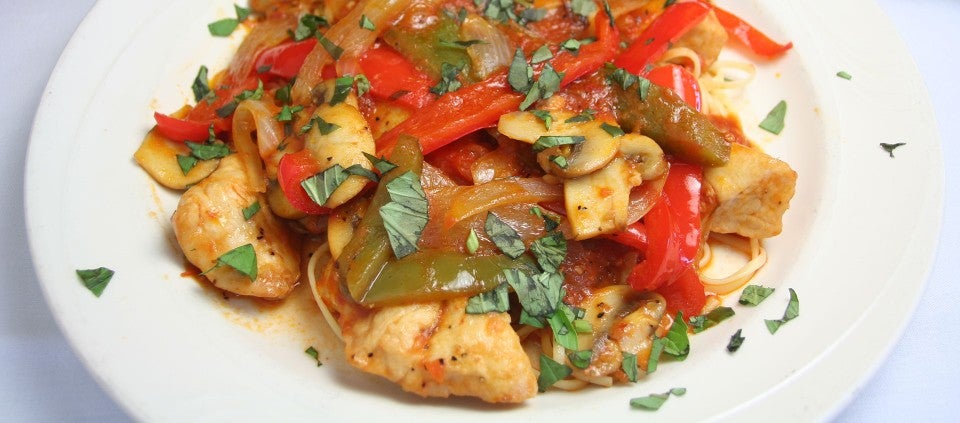 Serves 4–6
1 pound bone-in chicken thighs or breasts, skinned
1 tablespoon grape seed oil
½ teaspoon plus ¼ teaspoon sea salt
Pinch of freshly ground black pepper
1 cup yellow onion, thinly sliced
½ cup red bell pepper, thinly sliced
½ cup yellow bell pepper, thinly sliced
1 cup sliced mushrooms
2 garlic cloves, minced
¾ cup red wine
1 teaspoon dry basil
½ teaspoon dry oregano
1 teaspoon dry marjoram
1 bay leaf
4 cups canned organic diced tomatoes
Season chicken with ½ teaspoon of the salt and the pepper. Heat the oil in a large sauce pan over medium-high heat and add chicken. Reduce heat to medium-low and cook meat for 10 minutes on meat side and 5 minutes on bone side, until browned. Remove chicken from pan.
Add the onions, peppers, mushrooms, and garlic to same pan and sauté until slightly browned.
Add the wine, basil, oregano, marjoram, and bay leaf. Simmer until liquid has reduced by half, 3 to 5 minutes. Add the tomatoes and then the chicken back to pan. Cover and place in oven at 325 for 1 to 2 hours until chicken is fork tender. Add the remaining salt to the sauce and mix well. Serve 1 chicken thigh or breast over rice or pasta with sauce.