Kripalu Recipe: Chicken or Tofu Curry Stew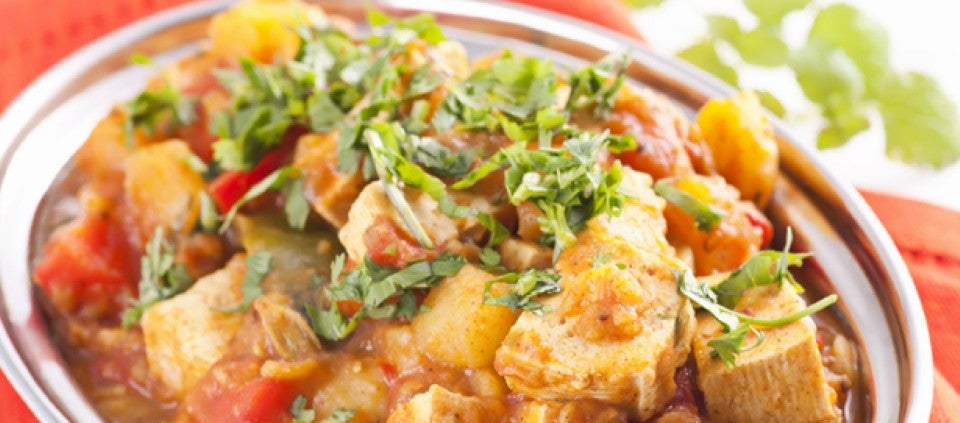 This is one of those meals that can be pulled together from leftovers, and will always taste new and different. Try our vegetarian version with tofu, or start with fresh cooked chicken, which naturally lends itself to this succulent stew.
Serves 4 or more
1/2 cup unbleached all-purpose flour
4 tablespoons butter or safflower oil
1 medium onion, diced
1/2 cup diced celery
1/3 cup diced apple
1 1/2 teaspoons curry powder
1 teaspoon turmeric
Pinch of cayenne pepper
2 teaspoons sea salt
6 cups chicken or vegetable stock
3 cups cooked chicken meat, pulled or cubed, or 1 pound tofu, cut into cubes
1 tablespoon agave syrup or honey
Make a roux by heating 3 tablespoons of the butter or oil in a large, heavy-bottomed soup pot over medium-low heat. Whisk in the flour and stir constantly until the roux is heated through without taking on color, about 2 minutes. Transfer the roux to a bowl and set aside.
In the same pot, heat the remaining tablespoon of the butter or oil over medium heat. Add the onion and celery and sauté until they are softened and somewhat translucent. Add the apple, spices, and salt and continue to sauté until apples just begin to soften.
Add the reserved roux and stir to combine. Slowly add the stock, whisking vigorously to prevent lumps. Add the chicken or tofu and simmer gently for 15 minutes. The stew will thicken. Stir in the agave syrup or honey. Taste and adjust the seasoning as desired.
Note If you prefer to make this recipe more soup-like, simply decrease the amount of roux you use.