Kripalu Recipe: Corn Chowder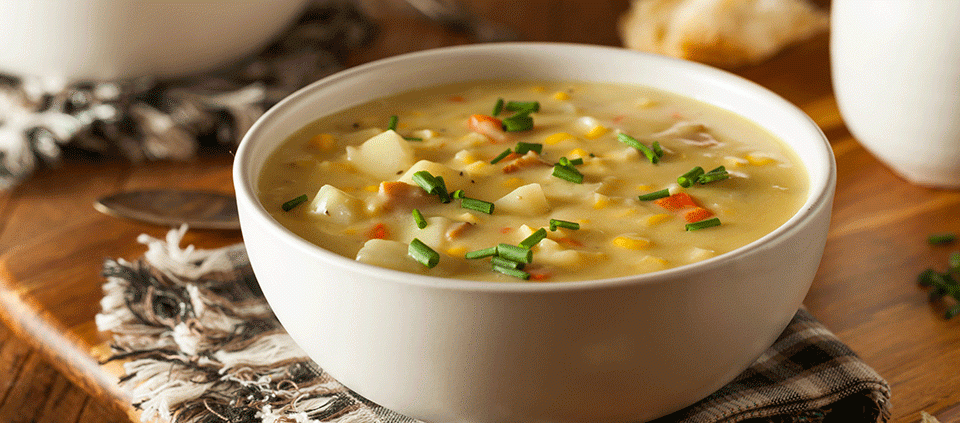 Kripalu Lead Nutritionist Annie B. Kay has plenty of good things to say about this classic comfort food. Potatoes are high in fiber and rich in nutrients like vitamin C, carotenoids, and flavonoids, making them excellent protection against cardiovascular disease and cancer. Onions are one of the richest sources of cancer-fighting polyphenols. Celery is rich in vitamin C and phthalides, which may lower blood pressure and cholesterol levels. And corn is a heart-healthy vegetable rich in fiber, B and C vitamins, and magnesium.
Serves 4
2 tablespoons olive oil or butter
1/4 teaspoon cumin powder
Pinch paprika
1 small onion, diced
3 stalks celery, diced
1 leek, sliced
4 cups potatoes, peeled and diced
3 cups fresh or frozen corn
3 cups water or stock
1 teaspoon salt
1 cup heavy cream or non-dairy milk (such as soy, almond, or rice)
Pinch nutmeg
Black pepper to taste
1 teaspooon chopped chives or scallions for garnish (optional)
In a large soup pot, heat the olive oil or butter. Add the cumin and paprika and sauté spices for 30 seconds. Add the onions, celery, and leeks, and sauté for a few minutes, until veggies are tender. Add the potatoes, corn, and stock. Bring to a boil, add the salt, and simmer for 15 minutes, until potatoes are tender. Using a hand or traditional blender, blend half of the soup and pour the blended soup back into the pot. Add the cream or milk, nutmeg, and pepper. Simmer on medium-low heat until heated through. Garnish with chives or scallion, if using.