Kripalu Recipe: Creamy Cauliflower Soup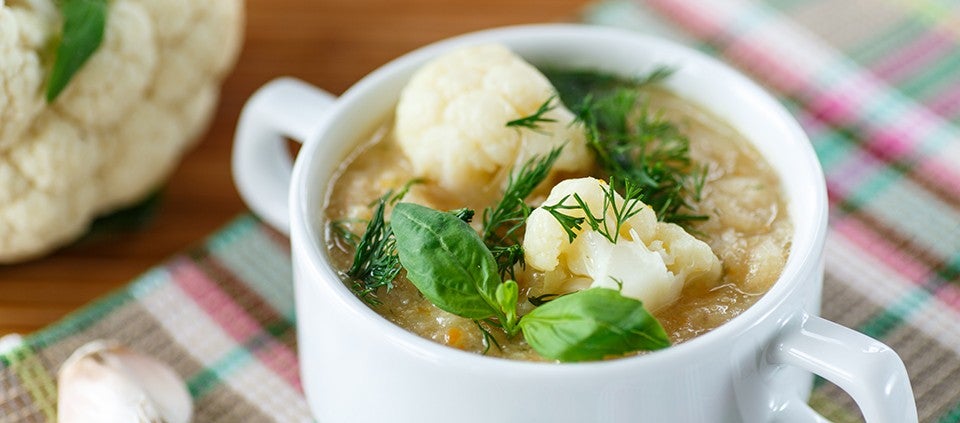 Cauliflower is a sulfur-containing vegetable that boosts detoxificiation and provides about a third of your daily fiber needs in one 100-calorie serving. Olive oil contains monounsaturated fats; in one study, participants who used olive oil exclusively as their fat source cut their risk of coronary heart disease nearly in half. Antioxidants and phenolic compounds also contribute to olive oil's ability to ward off cardiovascular, inflammatory, and free-radical damage. Dairy fat contains conjugated linoleic acid (CLA), which plays a role in immune health.
This soup is a nice alternative to the heavier meals we tend to eat at this time of year. Vegetarians/vegans can substitute non-dairy alternatives, when desired. Enjoy!
Serves 4
2 tablespoons olive oil
1 small onion, diced
2 cups vegetable stock or water
4 cups cauliflower, cut in large pieces
1 cup diced potatoes
½ teaspoon sea salt
1 tablespoon butter (or vegan spread)
2 tablespoons flour (All Purpose or gluten-free)
¾ cup milk (dairy or unsweetened dairy-free alternative recommended)
1½ cups grated, raw cheddar cheese (or cheese substitute)
Pinch of white pepper
Pinch of black pepper
Pinch of nutmeg
Sprig of fresh dill, basil, and/or parsley
Splash of lemon juice
Heat oil in a saucepan over medium heat. Add the onions, and sauté until they become translucent. Add stock or water, large cauliflower pieces, and potatoes. Bring to a boil, add salt, and simmer.
Meanwhile, make a roux by heating the butter and whisking in the flour. Set aside.
When cauliflower and potatoes are soft, transfer to a blender and blend until smooth. Return to pot and add milk. Heat the mixture, then add the roux, cheese, and seasonings. Simmer until creamy and heated through. Add a splash of lemon juice and garnish with dill, basil, and/or parsley.
Optional: When chopping the cauliflower, set aside a few small florets to brown in olive oil or butter for an additional garnish.