Kripalu Recipe: Ginger Cinnamon Baked Apples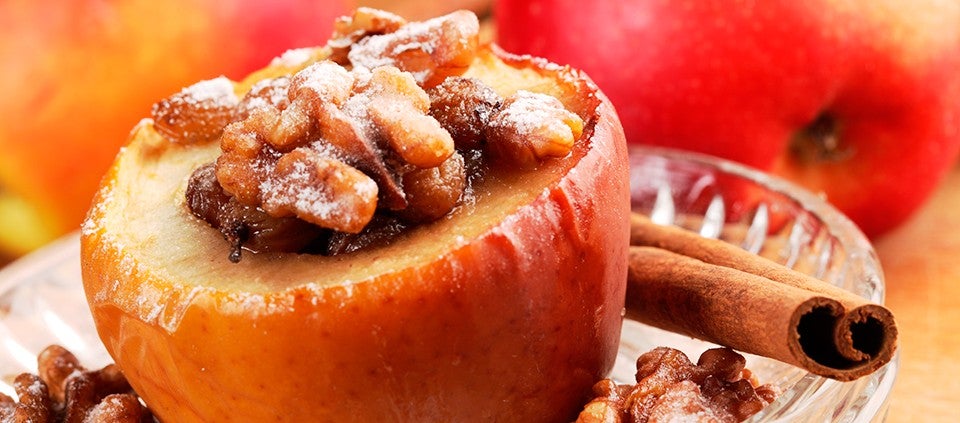 Nature's intelligence provides us with exactly the foods we need at each time of the year. According to Ayurveda, heavy, dense vegetables and fruits, such as apples, beets, sweet potatoes, pumpkin, and squash, are exactly what we need to counter the light and dry vata qualities of autumn.
2 apples, halved and cored
3 teaspoons ghee
½ cup chopped walnuts
1 tablespoon raisins
2 tablespoons maple syrup
½ teaspoon cinnamon
½ teaspoon cardamom
1 teaspoon ginger, minced, or ½ teaspoon dry ginger root
Pinch of nutmeg
Pinch of allspice
Pinch of sea salt
Preheat oven to 350 degrees. Halve the apples the short way and remove the core in both the tops and bottoms, preserving as much of the flesh as possible. Toss the apple halves with 1 teaspoon of the ghee and arrange in a 2-inch-deep glass baking dish.
Spread chopped walnuts on a small baking sheet and toast in oven for 6 to 8 minutes, or until they are golden brown. Set aside to cool. Keep oven on.
Combine the rest of the ingredients in a small mixing bowl with the remaining 2 teaspoons of ghee. Mix in raisins and walnuts. Stuff each apple with two tablespoons of the mix, cover with foil, and bake for 10 minutes. Remove foil and bake for an additional 4 to 5 minutes, until the apples are soft but still hold their shape.
Serve warm.