Kripalu Recipe: Gluten-Free Cinnamon-Raisin Bread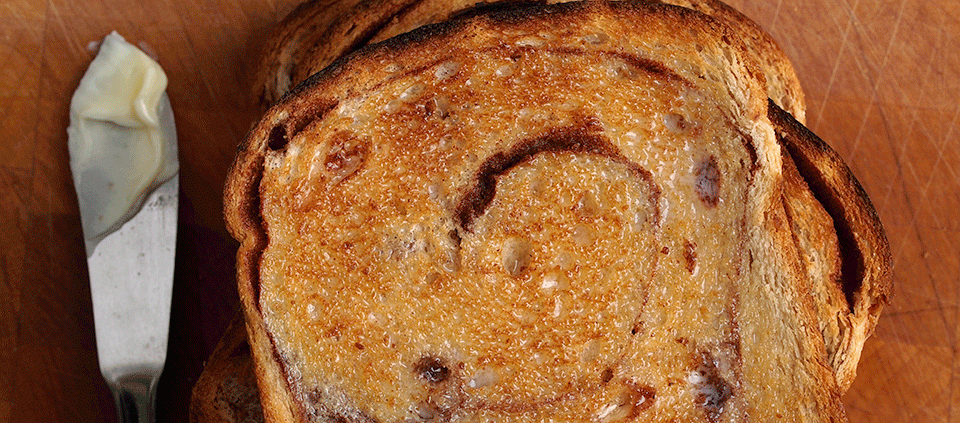 This recipe is a delicious choice for those seeking a nutritious alternative to wheat or spelt.
Makes 1 loaf
1 cup white rice flour
¾ cup tapioca flour
1 cup soy flour (defatted)
¹⁄3 cup whey powder
1 cup potato starch
1 tablespoon guar gum
2 teaspoons cinnamon
1½ teaspoons salt
1 whipped egg
2 cups water
1½ teaspoons cake yeast
2 cups dried raisins
Combine rice flour, tapioca, soy flour, whey powder, salt, potato starch, guar gum, and yeast.
Add eggs and begin to mix. This works great if you have an electric mixing bowl with a hook (dough) attachment; otherwise, just use your hands. Add raisins and water. If using a mixer, turn to medium speed and mix for five minutes. If mixing by hand, continue to mix for five additional minutes.
Using wet hands and water, shape the dough into a loaf on a board. Note that this will be a wet dough, not as dry as typical bread dough. Gently place the loaf in an oiled loaf pan and let rise for 30 minutes.
Bake at 350 degrees for 55 minutes. When it's done, the center of the loaf should reach 200 degrees (use a kitchen thermometer to test).