Kripalu Recipe: Grilled Zucchini with Cherry Tomatoes and Sorrel Puree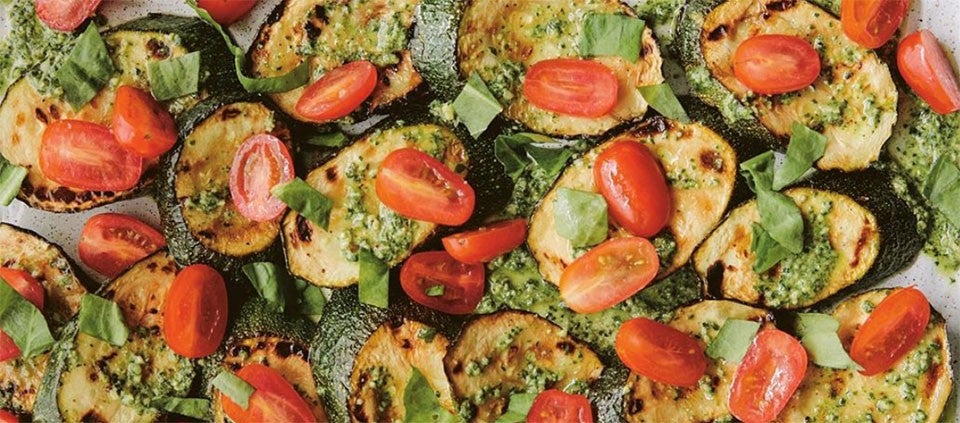 Zucchini and tomatoes are very watery, making them perfect for dry vata and hot pitta types. Sorrel and watercress also balance out the wateriness so that kaphas can enjoy them from time to time.
Serves 4
Sorrel puree (recipe here)
2 medium zucchini, cut on an angle into ovals about 1 inch thick (2 to 3 inches long)
2 tablespoons grapeseed oil
1 tablespoon balsamic vinegar
½ teaspoon fine sea salt
Pinch of freshly ground black pepper
1 cup cherry tomatoes, halved
Preheat a grill for medium heat.
Make the sorrel puree. (If you can't find sorrel, replace it with 1½ cups baby arugula, 1 tablespoon grated lemon zest, and 1 tablespoon lemon juice.)
Toss the zucchini, oil, vinegar, salt, and pepper in a medium bowl.
Scrape the grill grate clean and lay the zucchini ovals on the grill. Cook just until they are golden brown on the bottom, three or four minutes. Flip with tongs and cook just until the zucchini is tender yet still a bit crunchy, two or three minutes more. (If grilling isn't an option, you could just roast the zucchini or sauté it.)
Arrange the zucchini on a serving platter or individual plates and spoon the sorrel puree over the top. Garnish with the halved cherry tomatoes and serve.
Jeremy Rock Smith, Kripalu faculty and a graduate of the Culinary Institute of America, began his career in classical French cuisine.
Full Bio and Programs