Kripalu Recipe: Guacamole, Salsa, and Refried Beans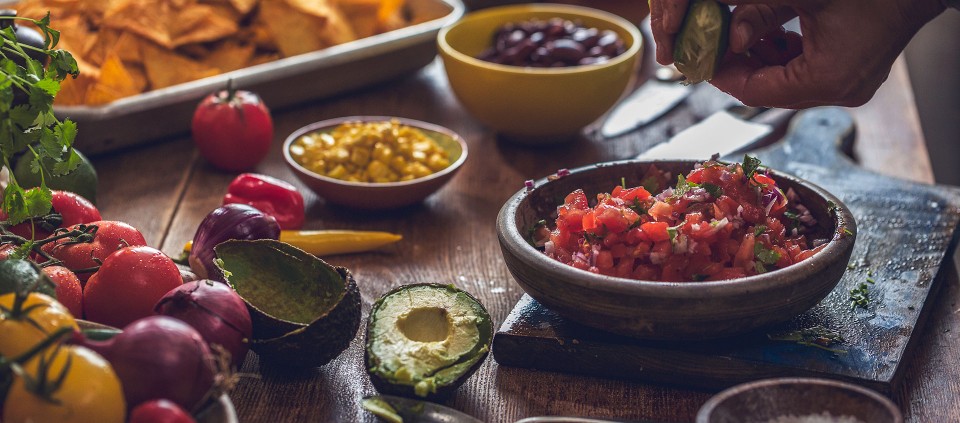 It's hard to imagine a combination of Kripalu recipes that offers more benefits for the cardiovascular system than the guacamole, salsa, and refried beans below. Both avocados and beans are incredible at lowering blood lipids (cholesterol), blood pressure, and blood sugar. Avocados are high in monounsaturated fats and plant sterols, both of which can significantly reduce cholesterol production. They are also very high in potassium, useful in treating high blood pressure or hypertension. Tomatoes are another good source of potassium, as well as the major dietary source of the antioxidant lycopene, which is associated with numerous health benefits, including reduced risk of heart disease.
Guacamole
Makes about 1½ cups
3 ripe avocados
1 tablespoons extra-virgin olive oil
1–2 teaspoons fresh chopped garlic
1 tablespoon lemon juice
½ teaspoon salt
Fresh cilantro to taste
Make sure avocados are ripe. If they are rock hard, do not cut into them; once the skin has been broken, they will not continue to ripen. Open ripe avocados and remove pulp, discarding seed and skin. With a hand masher or fork, mash the avocado with remaining ingredients. Adjust flavor to your liking—some folks like more or less lemon and more or less garlic. Best if eaten immediately.
Kripalu House Salsa
Makes 5–6 cups
1½ cups canned crushed tomatoes
2½ cups died fresh tomatoes
3/4 cup diced onions
3/4 cup diced green bell pepper
2 tablespoons chopped fresh cilantro
3/4 tablespoon olive oil
½ tablespoon balsamic vinegar
1 teaspoon diced jalapeno peppers or to taste
1 teaspoon diced garlic
1 teaspoon fresh lime juice
½ teaspoon salt
1/8 teaspoon black pepper
Pinch cayenne pepper or to taste
Dash Tabasco sauce or to taste
In a large bowl, combine all of the ingredients and mix together well. Serve immediately or refrigerate until ready to serve. This salsa keeps well in an airtight container in the refrigerator for up to seven days.
Refried Beans
Makes about 3 cups
1 cup pinto beans
1 tablespoon olive oil
1 clove garlic
1 teaspoon cumin
1 teaspoon coriander
½ teaspoon paprika
½ teaspoon chili powder
Pinch of cayenne and/or chili flakes
1 tablespoon sea salt
Rinse pinto beans and soak for at least four hours (preferably overnight) in 3 cups of water. After soaking time, drain water and place in pot with 3 cups of fresh water. Add oil, garlic, and spices (not including salt) to water. Bring to a boil, then turn down to a simmer. Let simmer until beans begin to break up. Add salt and continue to simmer. If too much of the water cooks off, gradually add just enough water to cover beans. When beans are really soft, use a potato masher to mash beans, adjust seasoning to your taste, and enjoy. Great served hot or cold.
Find out about our new cookbook, The Kripalu Kitchen, by Executive Chef Jeremy Rock Smith.