Kripalu Recipe: Indian Chickpeas in Coconut Curry Sauce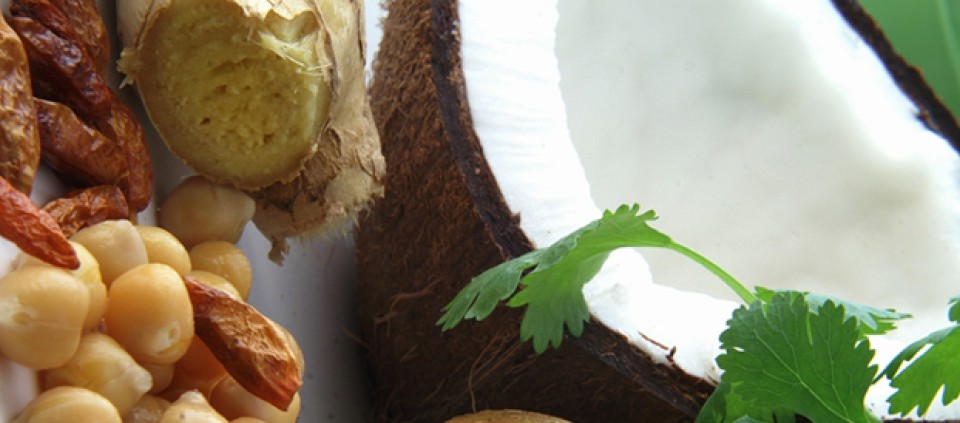 This Indian-Thai fusion dish uses coconut oil, one of the most beneficial overall fats, according to nutritionist and Kripalu presenter John Bagnulo. Coconut oil is known for improving heart health, boosting metabolism, promoting weight loss, and supporting the immune system. Chickpeas offer a combination of protein and fiber that seems to be a natural antidote to many health and digestive issues.
Serves 4
2 cups canned or cooked chickpeas (use 2/3 cup dry beans to equal 2 cups cooked)
1 tablespoon coconut oil
½ Spanish onion, diced
½ tablespoon fresh garlic, minced
½ tablespoon fresh ginger, minced
½ tablespoon coriander
½ tablespoon cumin
½ tablespoon garam masala
½ tablespoon chili powder
2 cups crushed tomatoes
½ teaspoon sea salt
1 ½ cups coconut milk
2 tablespoons fresh cilantro, chopped
Sauté the onions with ginger and garlic in the coconut oil for 5 to 8 minutes. Add spices and sauté one minute. Add tomatoes and salt and simmer on a medium to low flame for 30 minutes. Using a standard or immersion blender, blend mixture until smooth. Return to pan, turn up the flame to medium, and add the chickpeas and coconut milk. Simmer for 3 to 5 minutes. Sprinkle with fresh chopped cilantro and serve.