Kripalu Recipe: Pecan Wild Rice Pilaf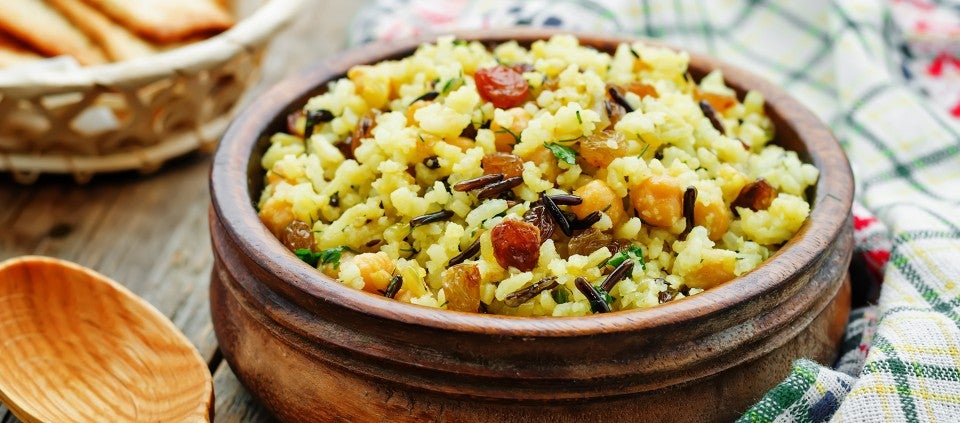 This pilaf recipe features garlic, rosemary, and thyme, herbs that help cool the fires of inflammation in the body. Celery is beneficial for lowering blood pressure and detoxifying the body.
Serves 4 with leftovers for lunch the next day (it's great cold!).
1½ cups brown basmati rice
½ cup wild rice
4 cups water
2 tablespoons olive oil
1 clove garlic, minced
1 small carrot, diced
2 stalks celery, diced
1 teaspoon fresh rosemary
1 teaspoon fresh thyme
⅓ cup roasted pecans, chopped
¾ cup dried apricots, diced, or raisins
⅓ cup chickpeas (optional)
Salt and pepper
Parsley, chopped
Rinse rice and place in a rice cooker (if you have one) or in a saucepan. Cover with water and turn on rice cooker or, if using a pan, bring to boil, turn down to low, cover, and simmer until done (about 15 minutes). In the meantime, heat a sauté pan and add olive oil, then the carrot, celery, and garlic. Sauté until carrots are soft and add fresh herbs, diced apricot or raisins, chickpeas if using, salt, and pepper. When the rice is done, add the vegetables and herbs and combine well, then gently mix in pecans and parsley.