Kripalu Recipe: Pumpkin Brioche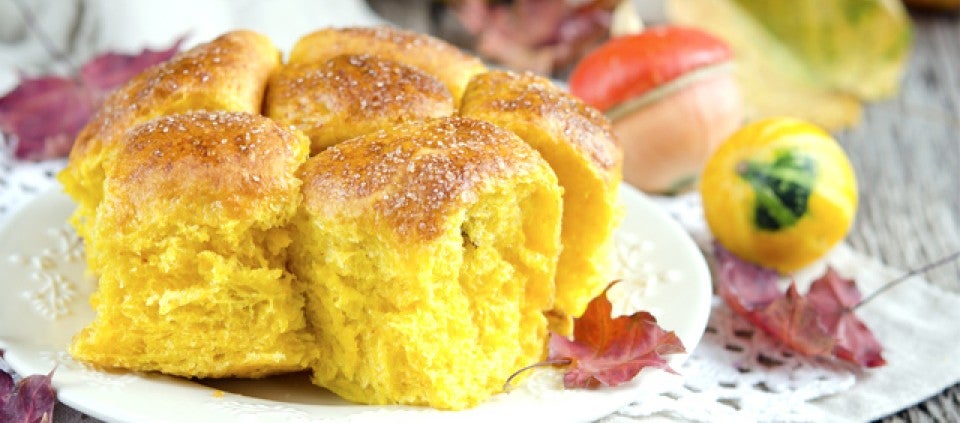 Enjoy this brioche warm with butter, or use it to make delicious French toast.
⅓ cup warm milk
1 teaspoon cane sugar
1 ½ teaspoons active dry yeast
2 ½ cups unbleached white bread flour
¼ cup organic sugar
½ teaspoon cinnamon
¼ teaspoon ginger
Dash of allspice
Dash of nutmeg
2 eggs
¾ cup canned pumpkin
½ stick unsalted, room temperature butter
⅛ teaspoon salt
In a small bowl, combine milk, sugar, and yeast. Let sit until yeast is activated.
In a mixing bowl, combine flour, sugar, cinnamon, ginger, allspice, and nutmeg. Add the milk and yeast mixture, eggs, and canned pumpkin. Mix for 10 minutes and then add the butter and salt. Continue mixing until dough forms.
Place dough in an oiled bowl covered with a damp towel and let rise for two hours at room temperature. Oil a medium loaf pan.
Flatten brioche loaf on a work surface in a rectangular shape. Start at one end and roll the dough like a yoga mat. Place dough in a loaf pan. Let rise until doubled in size. Brush dough with an egg yolk-milk wash.
Place in a heated 400-degree oven for 30 minutes or until the loaf sounds hollow when tapped on the bottom.