Kripalu Recipe: Quinoa Avocado Salad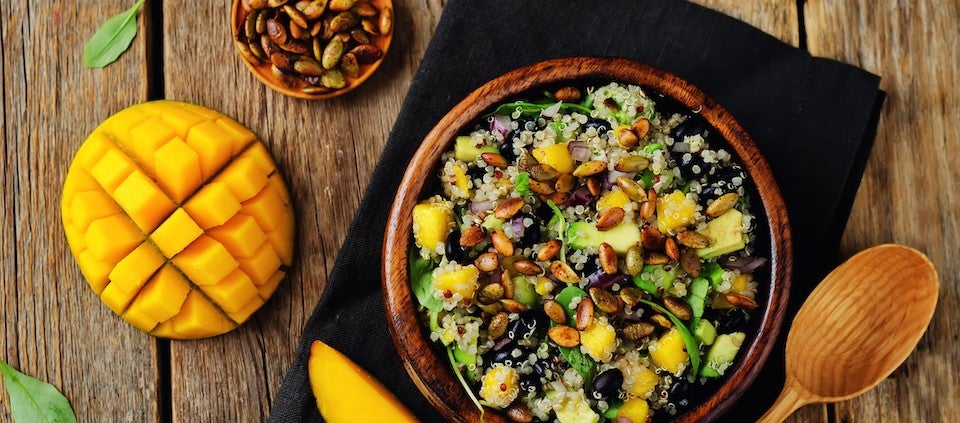 Once maligned for their fat content, avocados are now considered a superfood, great for helping reduce your risk for cardiovascular disease. Research shows that eating one avocado a day has a dramatic effect on blood lipids—without causing weight gain. The fat in an avocado is largely monounsaturated and contains a group of phytosterols that reduce cholesterol production.
Quinoa, a staple of Andean culture, is an extremely nutrient-dense grain, which is rare. A good source of calcium and magnesium, it offers the majority of the essential amino acids, making it close to a complete protein. It's a good idea to rinse your quinoa first, which will remove some of the saponins (these have a laxative-like effect when consumed in substantial amounts).
Serves 4
Prep time: 25 minutes, plus cooling time.
1 cup quinoa
1¾ cup water
½ cup red pepper, diced
2 scallions
¼ cup roasted pumpkin seeds
¼ cup olive oil
3 tablespoons lime juice
1 teaspoon sea salt
1 fresh ripe avocado
Optional add-ins: cheddar cheese, cooked black beans, roasted asparagus, chopped mango
Rinse quinoa and drain. Place in a saucepan and cover with the water. Cover pan and bring to a boil, then reduce heat to medium-low. Let simmer for 10 minutes. Turn off heat and let the quinoa sit, covered, for another 10 minutes, until all the water is absorbed. Remove, fluff with a fork, and spread onto a tray to cool. When the quinoa is cool, add the peppers, scallions, and roasted pumpkin seeds.
Combine the olive oil, lime juice, and salt, and toss with the quinoa. Garnish with fresh, sliced avocado and any of the optional add-ins.