Kripalu Recipe: Red Pumpkin Dahl with Mustard Seeds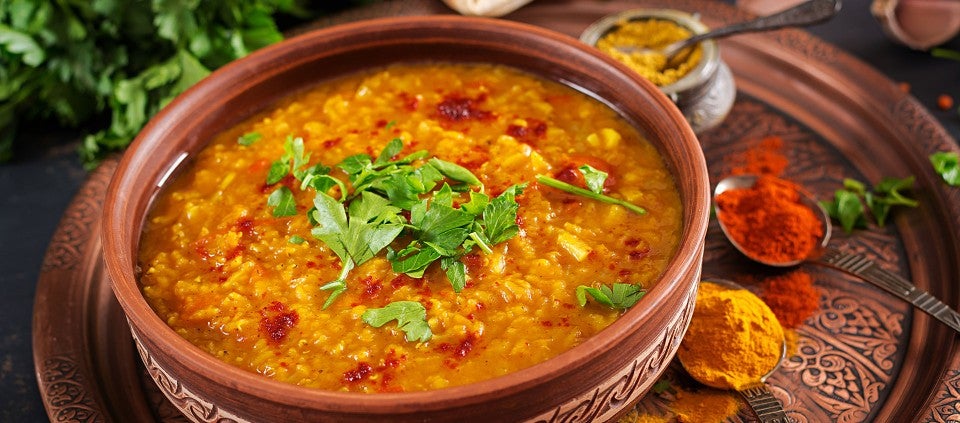 This dahl recipe from The Everyday Ayurveda Cookbook: A Seasonal Guide to Eating and Living Well, by Kripalu School of Ayurveda (KSA) faculty member Kate O'Donnell, features mustard seeds, which are chock full of flavor, highly beneficial to the gut, and incredibly heating—making them a great spice to incorporate into your dishes during the colder months.
These pungent little seeds kindle the digestive fire, making digestion and absorption easier for the system, explains Lauren Gernady, Academic Coordinator for KSA. "Because of the drying qualities found in mustard, it can also be great for countering spring and fall allergies, and for clearing the sluggishness caused by excess mucus," says Lauren.
4 cups water, or 3 cups water plus one 16-ounce can of coconut milk
1 cup red lentils, rinsed
1 teaspoon ginger powder
1 teaspoon turmeric powder
½ teaspoon ground coriander
½ teaspoon ground cumin
¼ teaspoon ground fennel
1 teaspoon dehydrated sugar cane or maple syrup (optional)
1 small kabocha squash, peeled and chopped into 1-inch cubes (about 2 cups)
½ teaspoon salt
1 tablespoon coconut oil
1 teaspoon grated fresh ginger
½ teaspoon cumin seeds
½ teaspoon mustard seeds
2 tablespoons shredded coconut
Boil the water and coconut milk, if using, in a large saucepan on high heat. Add lentils to the boiling water along with the spices and sweetener. Allow to come to a boil again, uncovered. Then turn heat down to medium.
Add squash to the saucepan. When it boils again, turn down heat to low and simmer, partially covered for 30 minutes. Do not stir.
Heat the oil in a small frying pan on medium heat and temper ginger, cumin seeds, and mustard seeds until you smell them, just 2–3 minutes. (Tempering is a cooking technique used in the cuisines of India, Pakistan, Bangladesh, and Sri Lanka, in which spices are roasted briefly to liberate essential oils from cells and thus enhance their flavors.) Take the pan off the heat and stir the shredded coconut into the hot pan. Continue to stir for a minute or two as the coconut browns.
Add the spice mixture to the lentils and squash, along with the salt. Simmer the dal, uncovered, for 5 minutes more.
Serve as a soup or ladle over rice.