Kripalu Recipe: Sourdough Mocha Cake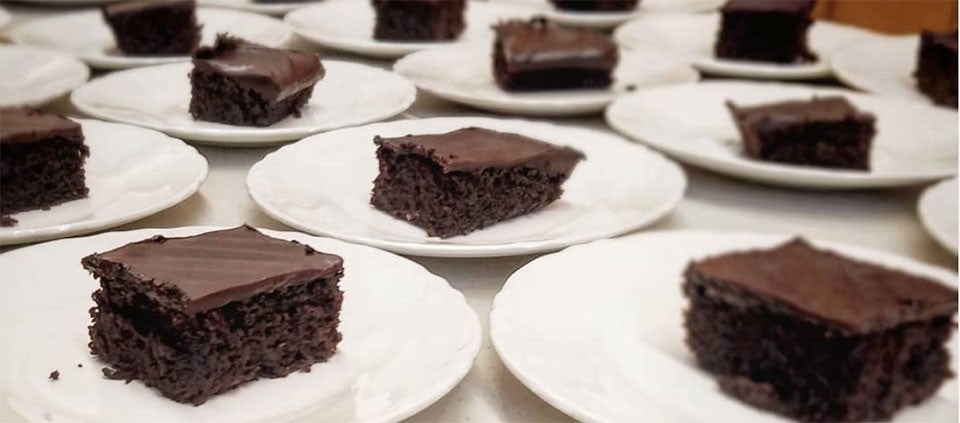 This special-occasion cake is egg-free and dairy-free and uses spelt instead of wheat, which many people find easier to digest. You will need an active sourdough starter.
Starter:
1 tablespoon starter
¼ cup water
2/3 cup white spelt flour
Sponge:
2/3 cup starter
3/4 cup water or milk of choice
3/4 cup whole spelt flour
1 tablespoon plus 1 teaspoon flax meal
¾ cup Sucanat
½ cup olive oil
1 teaspoon vanilla extract
1½ teaspoons coffee-flavored extract
1/3 cup non-alkalized cocoa powder
½ teaspoon salt
¾ teaspoon baking soda
For chocolate glaze:
1/3 cup heavy cream or milk of choice
2 tablespoons organic cane sugar
2 tablespoons butter or earth balance
6 ounces dark chocolate, chips or chopped
Five days before baking the cake, mix the starter until smooth. Cover and let rise until double in size, up to eight hours, depending on ambient temperature and humidity. Refrigerate for up to three days.
On the day before baking, combine sponge ingredients, mix until smooth, and let sit at room temperature for eight hours. Refrigerate overnight.
On the same day, mix flaxseed with 3 tablespoons water and refrigerate overnight.
On baking day, heat oven to 350 degrees F. Bring sponge and soaked flax to room temperature.
In a small bowl, mix together cocoa, salt, and baking soda.
Place soaked flax and Sucanat in a medium-sized bowl and mix until Sucanat is dissolved. Add olive oil and extracts and mix completely. Add sponge and mix gently until incorporated.
Gradually sprinkle dry ingredients onto wet ingredients, stirring gently.
Grease a round pan with an 8-inch diameter and line bottom of pan with parchment. Scrape batter into pan.
Bake until just set and knife comes out clean, about 25 minutes. Let cool a bit, then turn out onto a plate or cardboard the same size as the cake. Remove parchment paper. Place on wire rack over cookie sheet and let cool completely before glazing.
To make the glaze, heat cream and sugar in a heavy pan until just short of boiling. Stir in butter and chocolate until melted, reducing heat to low if necessary. If the glaze is not completely smooth and shiny, add a little more liquid. Cool until glaze thickens a bit.
Pour over cooled cake, spreading evenly with a spatula, or apply directly with a spatula, depending on texture and temperature. Refrigerate to allow glaze to set before serving.