Kripalu Recipe: Spinach Filo Pie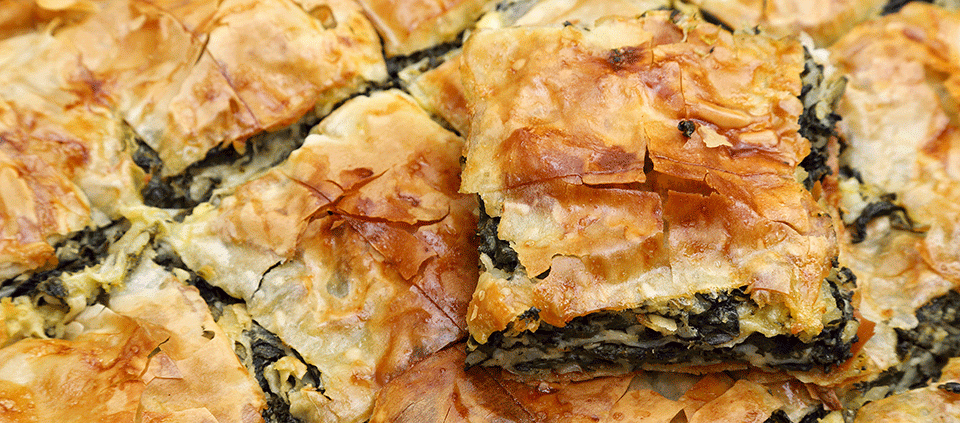 Spinach Filo Pie, or spanakopita, is a Greek staple that can serve as a breakfast food, a quick bite of lunch, an appetizer, or an elegant dinner. We make ours with filo dough, lots of greens—spinach and chard work best—and feta cheese.
Greens are excellent foods for building stronger bones, and they provide the body with an abundance of potassium. In addition, they're an excellent source of lutein, which is one of the most protective substances against macular degeneration.
Makes one 9"-square baking pan.
2 tablespoons olive oil
1 small onion, sliced
3–4 cloves garlic, minced
12 or more cups chopped spinach and/or Swiss chard
1 tablespoon fennel seed (dill weed can also be used)
½ teaspoon salt
1 egg
1 cup feta cheese, crumbled
Black pepper to taste
1 package filo, thawed slowly if frozen (overnight in the refrigerator is best)
½ cup melted butter
In a large sauté pan, sauté onions in olive oil. Add garlic, fennel seed, and salt and continue to sauté. Add spinach and Swiss chard. Heat just until wilted. Remove from heat and let cool. When the mixture is at room temperature, add whisked egg, crumbled feta, black pepper, and dill or fennel.
To assemble: Brush melted butter on the bottom of the baking pan. Then place seven layers of filo down one at a time, brushing each layer with butter. (You may need to cut the filo or fold it in half to fit the pan.) After seven layers, spread half the vegetable mixture in the pan and top with another seven layers of filo, brushing with butter as before. Lay remaining vegetable mixture on top of filo and top with a final seven layers of filo. Cover and bake at 350 degrees for 40 minutes; remove cover and bake for 10 minutes to brown.
If you prefer, you can use olive oil in place of the butter. Keep in mind, though, that your filo will not be as flaky.