Kripalu Recipe: Split Pea and Herb Soup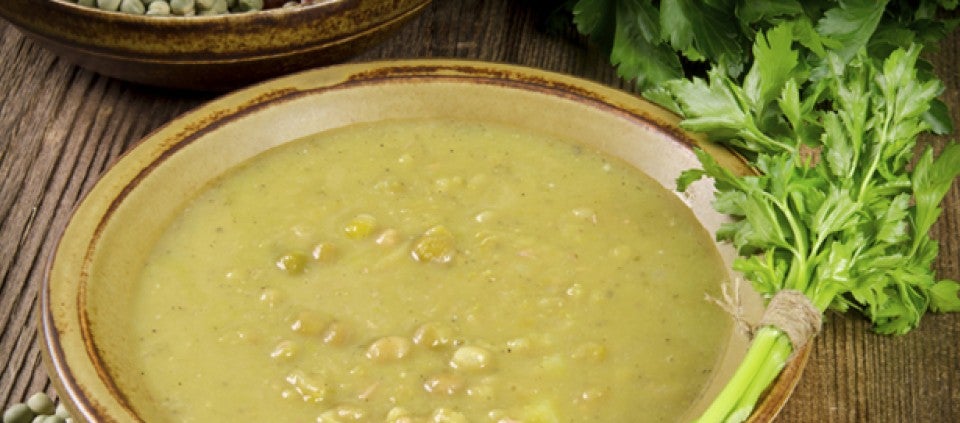 Besides being the perfect comfort food, this hearty soup boasts an unexpected nutritional powerhouse: thyme. Both thyme and thyme oil have demonstrated antioxidant protection in controlled studies. Enjoy, and be well!
Serves 4
1 cup split green peas, rinsed and checked for stones
6 cups water or vegetable stock
1 tablespoon extra-virgin olive oil
1/4 cup sliced onion
1/2 cup sliced leeks, white and light green part only, well rinsed
2 tablespoons minced garlic
2 cups frozen green peas, thawed
1 tablespoon minced fresh thyme
1 tablespoon minced fresh tarragon
1 tablespoon minced fresh dill
Pinch of black pepper
1/2 teaspoon sea salt
Rinse the split peas in cold water. Place in a 4-quart soup pot with the water. Bring to a boil, then reduce heat, partially cover, and simmer until split peas are soft, 20 to 30 minutes, or about 45 minutes if not soaked. (Split peas do not require soaking. However, cooking time will be reduced if peas are soaked for more than 4 hours prior to use.)
While the split peas are cooking, heat the oil in a skillet over medium heat until shimmering. Add the onions and leeks and sauté until translucent, about 10 minutes. Add garlic and cook for 1 minute. Transfer the onion mixture to the cooked split peas. Stir in 1 1/2 cup of the thawed peas and the thyme, tarragon, dill, and pepper. Cook for 5 minutes stirring often. Taste soup before adding salt. If you've used stock, you may not need additional salt. Add the salt if desired.
Use an immersion blender to puree the soup right in the pot or transfer the mixture to a blender and puree until very smooth. (Use caution while pureeing hot liquid.) Return the pureed soup to the pot, add remaining 1/2 cup of thawed peas, and cook until peas and puree are heated through, about 5 minutes. Serve hot.