Kripalu Recipe: Strawberry Coconut Bites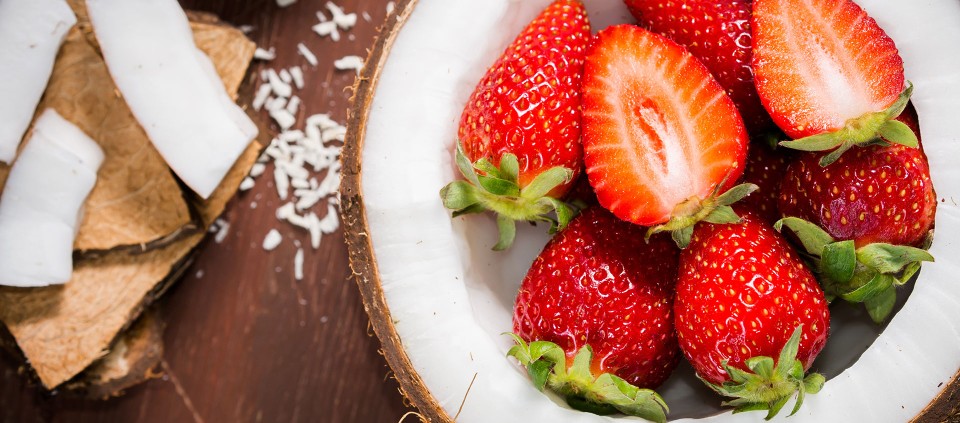 These treats contain just a trace amount of sugar—only the fructose from the strawberries—but have tons of added benefits, including improved digestion and elimination. Basically, anything with coconut is automatically okay in my book. Coconut oil has come a long way over the past decade. No longer viewed as a diabolical saturated fat, it's now praised as a superfood. Ayurveda teaches that coconut oil is cooling, which makes it great for those with fiery constitutions and for use during the summer and in hot climates, both externally and internally.
½ cup of coconut oil
1 cup shredded coconut or ½ cup of coconut butter
2 tablespoons freeze-dried strawberries
2 tablespoons shredded, unsweetened coconut
2 tablespoons of grated raw chocolate (optional)
To make the strawberry powder, place the freeze-dried strawberries in a food processor, and process until a fine powder is created.
To make your own coconut butter, place a cup of shredded coconut in a food processor and process for a few minutes, scraping down the sides as needed; then measure out ½ cup.
In a small saucepan, over low heat, melt the coconut oil and coconut butter. Once it is melted and homogenized, remove from heat.
Gently whisk the strawberry powder into the coconut oil/butter mixture. Sprinkle in the 2 tablespoons of shredded coconut and integrate.
Transfer mixture to a glass measuring cup with a spout. Pour into a silicone ice cube mold and place in the refrigerator for one to two hours, or until firm. Or simply pour into a glass storage container. Allow the mixture to cool slightly before adding the grated chocolate on top.
Remove the strawberry coconut bites from the molds, or leave in their glass container, and store in the refrigerator.
Lauren Gernady is an Ayurvedic Health Counselor, a 500-hour Ayurvedic Yoga Teacher, a graduate of the Kripalu School of Ayurvedic (KSA), and a former intern and Academic Coordinator of KSA.
Full Bio and Programs