Kripalu Recipe: Summer Fun Salad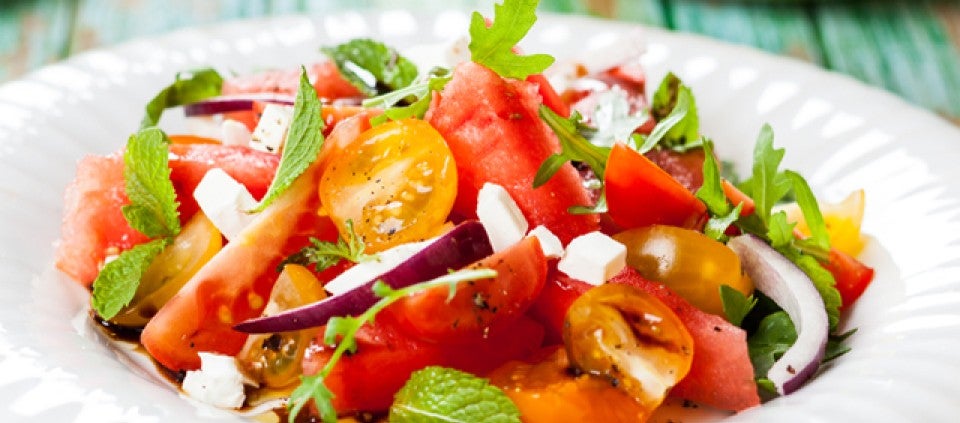 The lazy days of summer are here! This week, our Kripalu Recipe is one of our favorite summer dishes—a huge salad that highlights fresh fruits and vegetables. Make sure the mango is really ripe so the dressing is sweet and smooth. Alternatively, add slices of mango to the salad and, instead of dressing, drizzle the salad with olive oil and a squeeze of lime. And don't leave out the pepitas, or pumpkin seeds—they're anti-inflammatory powerhouses that contain a number of nutrients that many of us don't get enough of in our diet: omega-3 fats, zinc, magnesium, iron, and plant-based protein. Feel free to add fresh herbs for flavor.
Serves 2
For the salad:
2 large, thin slices of watermelon, rind removed
4 cups fresh arugula
1 cup large diced cucumber
1 cup grape tomatoes, cut in half
¼ cup red onion, sliced or diced
½ cup feta cheese (or vegan alternative)
¼ cup toasted pepitas (pumpkin seeds)
1 bunch fresh mint
Lay a slice of melon on each plate. Top each with half the arugula, cucumbers, tomatoes, red onion, and feta. Save pepitas and mint to garnish.
For the dressing:
½ cup fresh ripe mango, peeled
2 tablespoons extra-virgin olive oil
2 teaspoons lime juice
¼ teaspoon minced garlic
½ teaspoon honey
Jalapeno to taste
Pinch of sea salt
In a blender, combine all ingredients until smooth.