Kripalu Recipe: Tempeh with Capers and Lemon Butter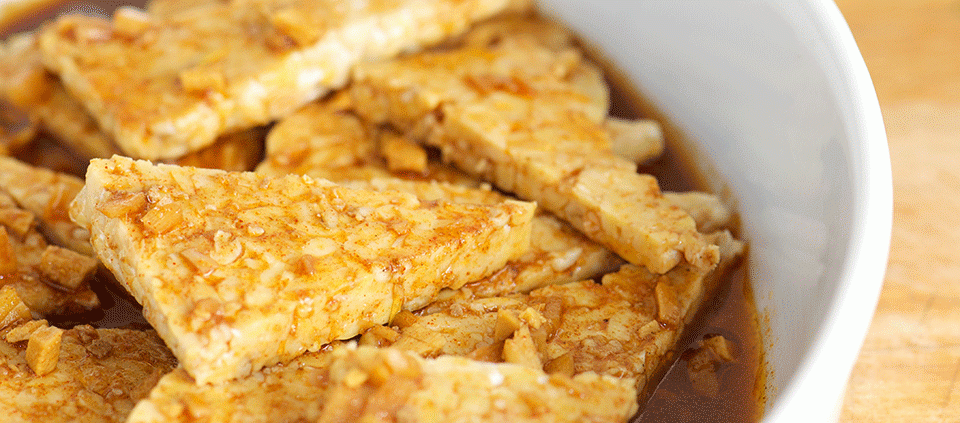 Tempeh is made from fermented soybeans, and is equivalent in protein quality to animal sources. You can get the full range of amino acids you need from soy. There has been discussion, and even some controversy, around eating soy in recent years, but it has advantages over animal alternatives, including potentially lowering cholesterol, helping to stabilize blood sugars, and for some, supporting digestive health. Always be sure that any soy product is organic and non-GMO. Meat eaters can replace the soy with any white meat or fish.
Garlic has a range of cardiovascular benefits, protects against cancer, and can even help promote healthy weight, due to its flavonoids and a unique set of sulfur-containing nutrients—in addition to vitamins C and B6, selenium, and manganese. The flavonoids in green herbs such as basil and parsley offer DNA protection, while their volatile oils provide and anti-bacterial support. For good measure, bright lemons and red bell peppers are rich in a variety of detox-supporting, health-enhancing phytonutrients.
Serves 4
1/4 cup tamari
1 1/4 cups vegetable stock
3/4 cup dry white wine
2 8-ounce packages of tempeh
1 cup unbleached all-purpose flour (or gluten-free alternative)
½ teaspoon sea salt
Pinch of black pepper
4 tablespoons safflower oil
3 tablespoons extra-virgin olive oil
3 shallots, minced
2 cloves garlic, minced
3 tablespoons capers
1 cup white wine
½ cup vegetable stock
3 tablespoons Earth Balance™ (vegan spread)
Juice of 1 lemon
2 tablespoons parsley, finely chopped
In a medium pot, combine tamari, vegetable stock, and wine and simmer over medium heat.
Cut each piece of tempeh diagonally into 12 thin slices. Place in the pot of broth and simmer gently for at least 30 minutes. Remove the tempeh and let cool.
Combine the flour, salt, and pepper in a shallow bowl. Add the cooled tempeh slices and coat each piece with flour mixture.
Heat the safflower oil in a large sauté pan over medium-high heat. Carefully place each piece of tempeh in the pan, and brown on both sides. Transfer to an ovenproof serving dish and place in a low oven to keep warm.
Wipe the remaining oil from the pan and add the olive oil. Heat over medium heat and add the garlic and shallots. Sauté for 3 minutes. Add the capers, and sauté for 1 minute. Add the white wine, and cook until it has reduced by half. Add the vegetable stock, and cook until is has reduced by half. Stir in the Earth Balance, lemon juice, and parsley. Remove tempeh from oven and cover with sauce. Serve hot.