Kripalu Recipe: Vegan Black Bean Burgers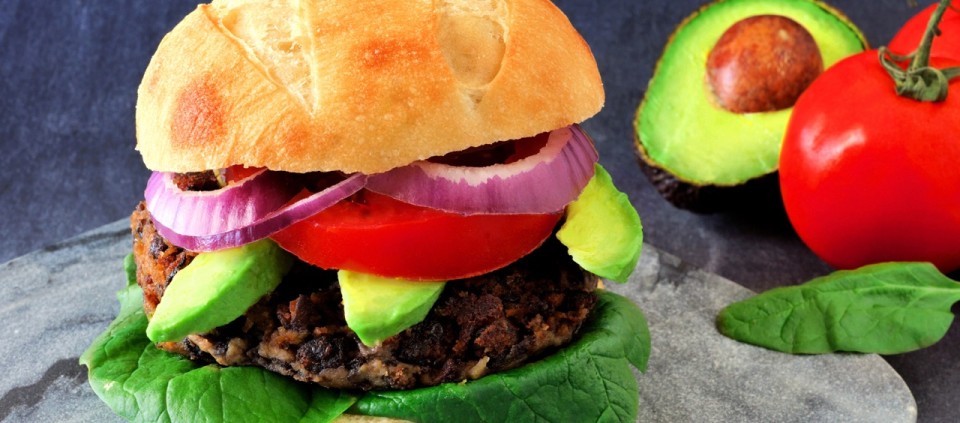 Beans are among the most nutrient-dense and health-promoting foods you can find. They contain soluble fiber, protein, and sustainable complex carbohydrate energy, and they're also rich in B vitamins (like thiamin and niacin), zinc, calcium, folate, and antioxidants. Research shows that increasing our daily consumption of plant protein helps lower blood pressure and blood glucose levels.
Makes four large burgers.
1 cup toasted pepitas (pumpkin seeds)
1 cup pecan meal, or 1 1/4 cups raw pecans
2 1/2 cups cooked black beans, drained well
1 cup cooked brown rice
2 tablespoons extra-virgin olive oil
1 small Spanish onion, diced
1 tablespoon chopped garlic
1 tablespoon cumin
1 1/2 teaspoons ground coriander
1 1/2 teaspoons dried sage
1 teaspoon dried thyme
1 teaspoon sea salt
Pinch of black pepper
Place the pumpkin seeds in the bowl of a food processor and pulse a few times to partially grind the seeds. If using whole pecans, place them in the processor and pulse to create a pecan meal.
Add half the black beans and 3/4 of the rice and pulse to lightly mash. Transfer to a large bowl.
In a sauté pan, heat the olive oil and sauté the onion and garlic for a few minutes. Add the cumin and coriander and sauté 1 minute. Stir in the sage, thyme, salt, and pepper. Add this mixture to the mashed bean mixture along with the remaining beans and rice. Mix everything together well.
Divide the mixture into 4 (or more if you'd like smaller burgers) and shape into patties. Grill or bake at 350 degrees for 15 to 20 minutes. Let stand for 5 minutes before serving. (This allows the burger to firm up.)
Serve the burgers on buns, or alone with toppings of your choice.