Kripalu Recipe: Vegan Pecan Bars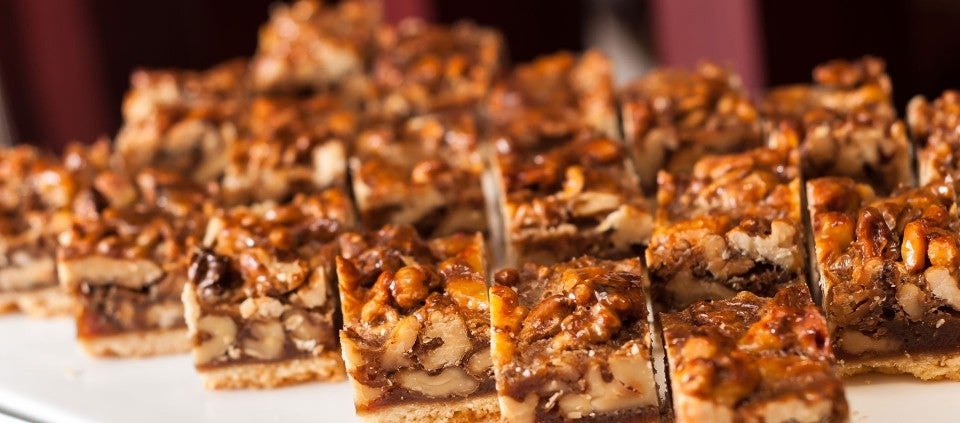 This recipe offers a perfect mixture of sweetness and chewiness.
Makes one 9-by-13-inch pan
For crust:
1 cup pecan meal (finely ground pecans)
½ cup oat flour
2/3 cup barley flour
1/8 teaspoon baking soda
¼ teaspoon baking powder
¼ teaspoon sea salt
1/8 teaspoon cinnamon
1/3 cup sunflower oil
1/3 cup maple syrup
¼ teaspoon vanilla extract
For filling:
¼ cup potato starch
1/3 cup soy milk
1¼ cup organic dark brown sugar or sucanat
3/4 cup brown rice syrup
2 tablespoons plus 2 teaspoons Earth Balance
1/8 teaspoon salt
2 cups chopped pecans, lightly roasted
Preheat oven to 350 degrees.
To make the crust, combine the dry and wet ingredients separately. Pour wet into dry and stir to combine. Press the mixture into the baking pan. Prebake the crust for 10 minutes, until it's lightly cooked but hasn't started to brown yet.
For the filling, place the potato starch in a bowl and slowly add the soymilk, stirring to combine. Add the sugar and stir until it begins to dissolve. Add the rice syrup (you can substitute agave or honey), Earth Balance, vanilla, and salt. Stir to combine.
Spread filling on top of crust. Top with chopped pecans. Bake at 350 degrees until the bars are a uniform brown color yet still retain some softness, about 20 minutes. Be careful not to overcook, as it will become brittle.
Remove from the oven and allow to sit for a few minutes. Cut into bars while still warm. Best to plan on making a double batch!