Kripalu Recipe: Warming Winter Soups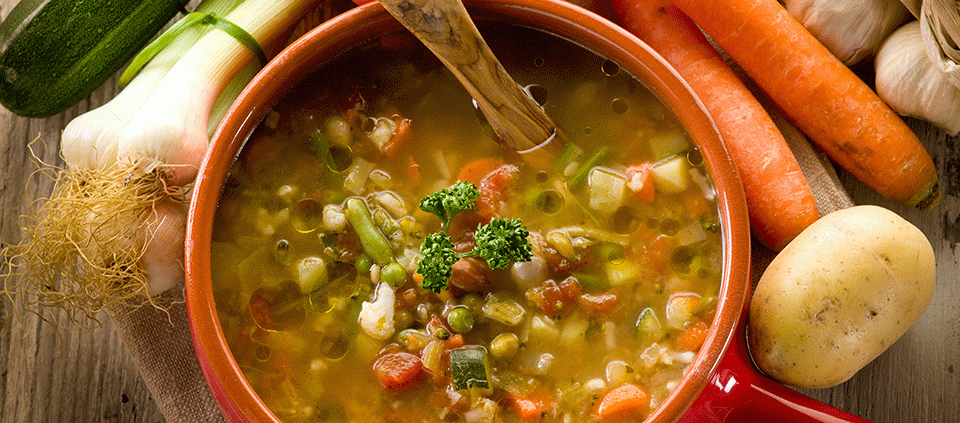 Try these hearty one-pot meals this winter.
Harvest Stew
Serves 6–8
2 tablespoons butter or Earth Balance® (non-dairy spread)
1 small onion, medium diced
1 large carrot, roll cut
2 small parsnips, roll cut
1 potato, medium diced
1 zucchini, medium diced
2 cups butternut squash, large diced
2 cups green cabbage, large diced
4 cups vegetable stock
1–2 teaspoons sea salt
2 teaspoons fresh rosemary
2 teaspoons fresh thyme
2 tablespoons dry white wine (optional)
1 extra tablespoon butter or Earth Balance and ¼ cup flour (optional)
In a large soup pot, heat the Earth Balance and then begin by sautéing the onions. When onions start to sweat, add a pinch of salt and the carrot. Add each additional vegetable one by one in the order they appear in the recipe, allowing the one before it to heat and sweat, adding a pinch of salt at that point. After all the vegetables are added, continue to sauté until they begin to stick to the bottom of the pan slightly. Add the fresh herbs, stir, and deglaze with the wine (or a little stock or water), adding it to the bottom of the pot and scrapping up any sticky parts. Add more salt and then the stock. Bring to a boil, reduce to a simmer, cover, and simmer on very low for at least a half hour. Taste occasionally and add pinches of salt until desired flavor is achieved. To thicken the stew, first make a roux (a flour/ fat mixture). Melt the Earth Balance in a small sauté pan. Add the flour and whisk together while still on the heat– the consistency should be a bit sandy. Bring the stew back to a light boil and add the roux, stirring until it melts and the stew begins to thicken. Add more salt or herbs, if desired. Simmer a few more minutes before serving.
Creamy White Bean and Roasted Fennel Soup
Serves 4
5 cups cooked cannellini beans
1 teaspoon olive oil
1 cup fennel root, small diced
2–3 cloves garlic, unpeeled
2 tablespoons olive oil
l½ medium onions, medium diced
1½ cups cauliflower, chunked
1 teaspoon fresh thyme
2 teaspoons fresh oregano
2 tablespoons fresh parsley, chopped
3 cups vegetable stock
1 teaspoon sea salt
Begin by tossing the diced fennel with 1 teaspoon olive oil and a pinch of salt. Place it in a baking dish with the unpeeled garlic cloves and bake at 450 degrees for 15–20 minutes, until the fennel is tender and browned slightly. Remove and set aside.
In a large soup pot, heat the remaining olive oil over medium heat and add the onions. Sauté until tender and add a pinch of salt, then add the cauliflower. Sauté until tender, add another pinch of salt, and then add the cannellini beans and herbs. Stir and sauté a few minutes. Add stock, roasted fennel, and remainder of the salt and bring to a strong simmer for 15 minutes, until the cauliflower is soft and the beans are heated. Carefully remove ¾ of the soup and puree it in a blender (or use an immersion blender to puree). Add puree back to whole beans (feel free to puree everything, if desired). Garnish with choice of chopped roasted red peppers, basil oil, toasted pine nuts, fennel leafs, or simply a stream of good olive oil and a splash of balsamic.