Kripalu Recipe: Wheat-Free Vegan Blueberry Muffins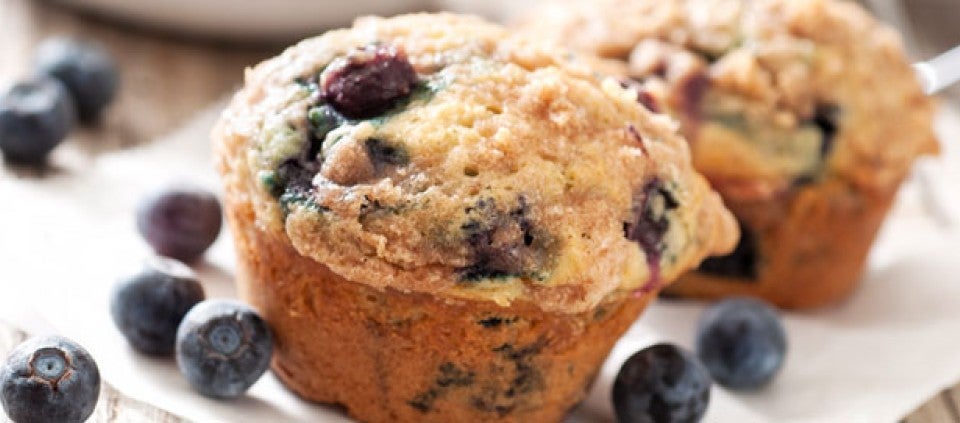 Makes one dozen muffins.
½ cup sunflower oil (you can substitute safflower or canola oil)
½ cup maple syrup
1 ¼ cups soy milk
2 teaspoons apple cider vinegar
1 teaspoon vanilla extract
½ cup sucanat (you can substitute maple sugar or date sugar)
3 ½ cups barley flour
2 teaspoons baking powder
2 teaspoons baking soda
½ teaspoon nutmeg
1 teaspoon salt
2 cups whole blueberries (fresh or frozen)
Preheat oven to 350 degrees. Line a 12-cup muffin pan with paper liners. Mix the wet ingredients in a small bowl. Mix the dry ingredients in a large bowl. Pour the wet ingredients into the dry, mixing gently as you pour; be sure not to overwork the batter. If the batter seems too stiff, add soy milk, one teaspoon at a time. Using a spatula, fold the blueberries into the batter. Spoon the batter into the muffin pan.
Bake for 20–30 minutes, rotating the pan a half turn every so often to ensure even baking. The muffins are done when a knife inserted into one comes out clean. Let cool for about 15 minutes. Remove from pan and continue cooling on a wire rack.