Kripalu Recipe: White Bean and Kale Soup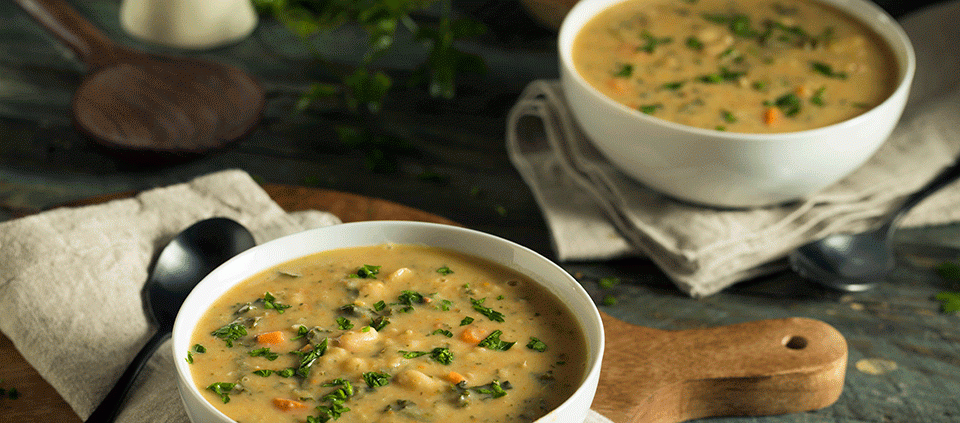 Yes, kale has a good publicist, but it can stand up to its claims. Kale is high in vitamin C, calcium, and potassium. It might even give you rose-colored glasses: A 2013 study by Harvard researchers found a strong association between participants' levels of optimism and their levels of carotenoid antioxidants (found in green and orange vegetables such as kale, sweet potatoes, collard greens, and carrots). Eat kale, be happy!
Serves 4
1 and 1/2 cups cooked cannellini beans or 1/2 cup dry beans
1/2 Spanish onion, small diced
1 tablespoon fresh garlic, minced
1 carrot, small diced
1 tablespoon fresh thyme
1 tablespoon dry sage
1 teaspoon sea salt
Pinch black pepper
8 cups vegetable stock
2 cups kale, chopped
2 tablespoons extra virgin olive oil
If using dry beans, rinse and then soak overnight. Place in a medium pan with 2 cups water and a 1-inch piece of kombu and bring to a boil. Reduce heat and simmer until tender, adding a pinch of salt toward the end.
In a heavy-bottomed soup pot, saute onions, garlic, and carrots in the olive oil for five minutes. Add the herbs, salt, and pepper, and cook for a few more minutes. Add the vegetable stock and beans. Bring to a boil and simmer for 20 minutes on medium heat. Add the kale, simmer another minute, and serve.