Kripalu Recipe: Wild Mushroom Risotto with Black Truffle Oil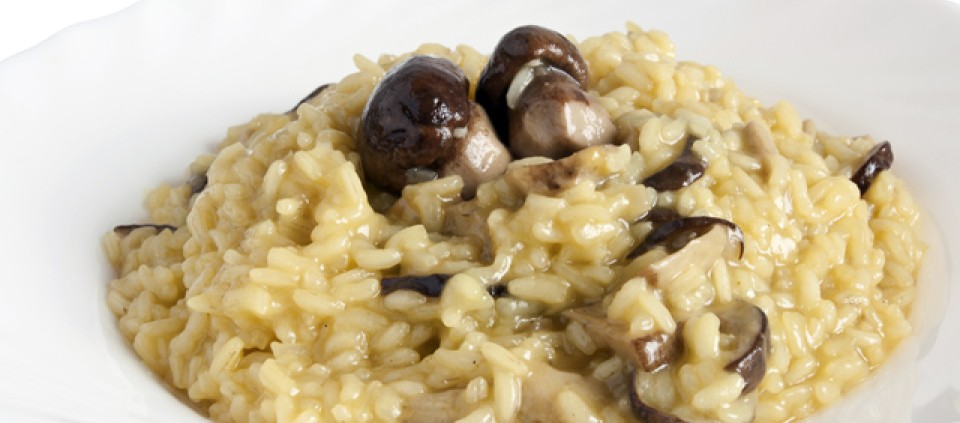 Serves 4.
8 cups organic vegetable or chicken stock
¼ ounce dried porcini or shiitake mushrooms
3 cups assorted wild mushrooms,
stems removed, small diced or sliced
4 tablespoons olive oil
½ cup onion, small diced
1 cup arborio rice
½ cup dry white wine
¼ cup organic unsalted butter or olive oil
½ cup grated Parmesan cheese (optional)
Salt and freshly ground black pepper
Black truffle oil
Place stock and dried mushrooms in a saucepot over medium heat. Bring to a simmer for about 5 minutes to reconstitute the mushrooms. Remove mushrooms and chop finely. Keep stock at a simmer over low heat.
Heat 1 tablespoon oil in a saucepan over medium heat. Add wild mushrooms, stirring occasionally, and cook until golden and soft, 5 to 8 minutes. Transfer to bowl.
To the same pan, add remaining olive oil, reconstituted mushrooms, and onions. Cook until translucent. Add rice; cook, stirring, for 3 to 4 minutes.
Add wine and cook, stirring, until wine is absorbed by rice. Add ¾ cup hot stock to rice. Stir constantly until rice has absorbed most but not all of the liquid and the mixture is thick. Add another ¾ cup stock. Repeat this process until the rice is al dente. As the rice nears doneness, watch carefully, adding smaller amounts of liquid. The risotto should be slightly creamy and thick; it will thicken further when removed from heat.
Add the reserved mushrooms and remove from heat. Stir in butter or olive oil and Parmesan; season with salt and pepper to taste. Drizzle a few drops of truffle oil over each serving. Serve immediately.