Let the Revolution Begin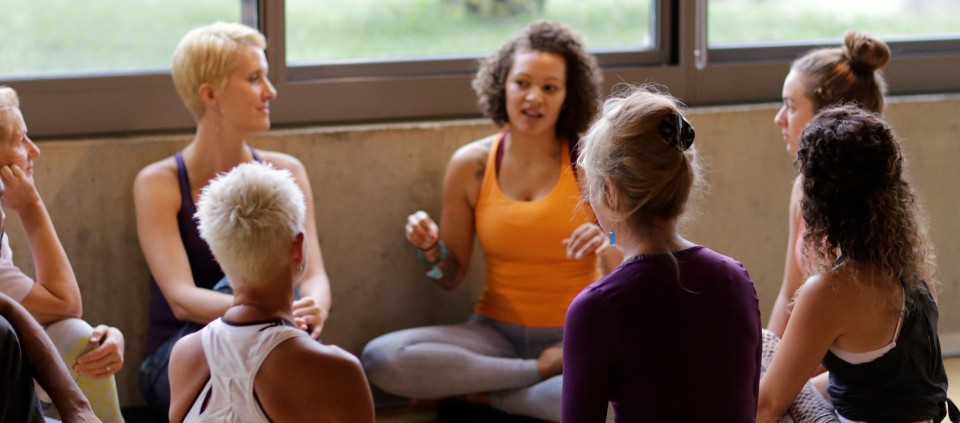 We are living in a pivotal moment—one in which women are voicing their experiences in ways that have the potential to shift the prevailing paradigm once and for all. That is why this is exactly the right time to be hosting Women's Week at Kripalu: The Revolution Within, a first-of-its-kind event at Kripalu, focused on empowerment, connection, embodiment, and service as activism. It's the only programming on campus this week, with more than 200 of us gathered along with a remarkable lineup of pioneering yoga teachers, best-selling authors, prominent civil rights activists, and celebrated artists and luminaries.
It's not only the right time for Women's Week, it's also the right place. Kripalu's mission—to empower individuals and communities to reach their full potential through the transformative wisdom and practice of yoga—speaks directly to the work that needs to be done and the ways in which we must care for ourselves and one another.
In a world that is divided and polarized, Kripalu is an antidote. Kripalu is committed to creating an experience and the safe space in which to engage that experience. In this week, we are inviting out of the margins those voices that have been marginalized. It is an opportunity to do what we do best at Kripalu, to connect to ourselves and to others to engage in a process of self-inquiry, to listen deeply to our own stories and to those of others—beyond geography, race, religion, gender, or politics—from a place of nonjudgment and compassion for each other and for our own full, flawed selves.
Kripalu sits on ancestral Stockbridge Munsee Mohican lands. The Mohican people stewarded the lands around Stockbridge Bowl for hundreds of years, and those lands along what is now called the Hudson River for thousands. Mohican elders still teach today that the stars, elements, plants, animals, trees and stones are our relatives; that all of life is a great web of interconnection; and that we are called to live in gratitude for all of the gifts of Mother Earth. My hope is that, this week, we will experience that interconnection in our coming together.
And, as we sit on these lands, we also celebrate the deep roots of Kripalu, which reach back thousands of years to the development and evolution of yoga in South Asia, and more recently to India in 1913, when Swami Kripalu was born. The word Kripalu means compassion, and Swami Kripalu's teachings are based on the philosophy of Sanatana Dharma, or the "Perennial Wisdom"—the recognition that all the world's wisdom traditions stem from a shared universal truth.
Creating a world of equality, justice, and peace that reflects these truths requires both outer and inner work, learning, and commitment. Together, let us cultivate the inner resources needed to bring about lasting collective change.
All transformation begins with the revolution within, so let the revolution begin.
Barbara Vacarr, PhD, Kripalu's CEO from 2016–2021, is a psychologist, adult educator, and lifelong meditator who writes about and speaks to topics related to mindfulness, compassion, conscious leadership, and activism.
Full Bio and Programs