Marriage as a Path of Compassion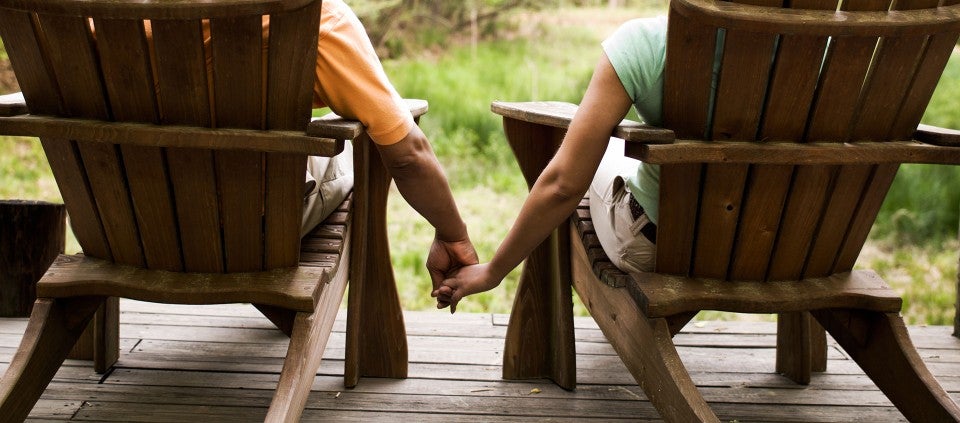 In 1984, I became a student of Rinzai Zen master Joshu Sasaki-roshi. In Rinzai Zen, teachers use koans, which are questions that cannot be answered conceptually or with words. They can only be answered by manifesting an enlightened presence. Thus, it is not uncommon for a student to work on a particular koan for several years before a Zen master "passes" the student. Among the first koans my teacher gave me was, "How do you realize your true nature when you are with your wife?" The words, "true nature" in this koan refer to the awakened, enlightened state or buddha nature. So this koan was an invitation to manifest my buddha nature while being with my wife. Or, more simply, it was an invitation to become an awakened, enlightened husband—a husband who is a Buddha.
It has been several years since I was given this koan, and I am not yet a Buddha-husband. I am merely an apprentice Buddha-husband. Which is good, because committed relationships insist, above all, on humility. I no longer expect to graduate from my apprenticeship or to receive some sort of diploma. Nor would it matter if I did. Diplomas from the University of Love and Marriage tend to be obsolete within a very few days.
What has happened during all these years, though, is that I have come to see marriage as a kind of spiritual curriculum with a major in compassion. And I would like to offer you the benefit and merit of what I have learned from walking, waltzing, traipsing, and trudging along this marathon path of matrimony.
First of all, and most important, I've learned that marriage, like most things in life, works better the more awareness I have. By "awareness," I mean the innate capacity we all have to notice—ourselves, others, and the environment. Our awareness is an unwavering, unblinking witness; it is an omnipresent presence, perfectly impersonal, impartial as a star, without will or volition, silently and serenely assenting to everything. This is our true nature, our buddhanature, our essential being. This is what makes love, compassion, and relationship possible.
Unfortunately, for most of us, this capacity for awareness is severely obscured by the compulsive activity of our minds. These activities include constant monitoring of the multimedia attractions and distractions of our everyday experience (sensations, sights, sounds, feelings, and thoughts), seeking stimulation and satisfaction, trying to know and understand what's going on, explaining the past, planning, predicting, and controlling the future, and resisting any diminishment to our self-image.
It is only when this activity of mind subsides and the light of our awareness is apparent that we can relate to each other authentically and compassionately. In the light of present awareness, we can find each other, see each other clearly, and be together in the place that we always are—right here. Here you are! Here I am! Here we are! And being here together with awareness, we are able to wholeheartedly immerse ourselves in whatever experience our life together has to offer. Now we are one—wonderfully, onefully together. Now we are two—a separate "me" and "you," a kiss or a collision of differences. By turns, our being together may be blissful, funny, angry, tender, hurtful, or healing. It is continuously and kaleidoscopically changing. By witnessing as we experience all these changes, gradually, palpably, compassion appears. Being aware and present, we gradually wake up together to our common humanity and to something larger than ourselves.
Being aware and present, we also discover that we have no alternative but to accept each other and what is happening between us right now. That is because what is happening between us is already in play. Perhaps, in the next moment we will say or do something that could change our relationship for the better. But nothing we say or do will be successful if it does not involve a full acceptance of this present actuality. This is because authentic change requires that we see and accept where we are. We must start here. Especially in relationships, resisting or trying to change what is happening now actually prevents change from happening later. Compulsively contriving to manipulate and change each other is what keeps relationships stuck.
If we can stay present, accepting whatever is happening on its own terms, we often discover to our surprise that, paradoxically, the changes we most deeply desired in ourselves or in our partners are occurring spontaneously. We see that happiness and love can appear naturally—like sunshine, like snow, like spring. So can pain. Part of compassion is being able to allow things to happen on their own terms, despite our preferences. The Third Chinese Zen patriarch, Seng-t'san, wrote: "The great way is not difficult for those who have no preferences." This is probably nowhere more true than in intimate partnerships.
Of course, most of us are not prepared to practice this kind of radical acceptance. We have very strong preferences about the kind of experiences we want to be having, and we are not about to relinquish them. We find it difficult to accept that relationships involve such a mix of positive and negative experiences. Most of us enter into relationship in order to find comfort, a refuge, a safe harbor to get away from the storms of the world. What we discover to our dismay is that our intimate relationships are just as mixed and messy as anything out there in the world. We discover that the safe harbor sometimes becomes a storm itself. We find ourselves, as Pablo Neruda describes it in one of his love sonnets, "in the land of kisses and volcanoes."
Rather than accept this, we look for an alternative, the way we might if we were watching television. If we don't like what we are seeing on TV, we reach for the remote control and switch to another channel. Similarly, if we don't like our experience in being with another, we tend to assume that it could be, indeed should be, changed. When something unpleasant or painful arises, we make every effort to change it. If that fails, we console ourselves with trying to understand what is wrong with ourselves or our partners or our relationship. And if that fails, we are left to ponder the possibility that this match, which seemed "made in heaven," was made somewhere else. In the everyday life of relationship, in so many different ways, we are trying to have reality be other than how it is.
The fact is, if we're honest, relationships are often extremely painful. For many of us, the greatest pain of our lives has occurred with an intimate partner. This needs to be acknowledged. It also needs to be understood. We need to ask ourselves, why is this the nature of relationships? Is it because we are incompetent at relating and loving? Is it because we all have the wrong partners and need to exchange them for others who are more compatible? Or is it rather because there is something about relationships that we have fundamentally missed or misunderstood? This last explanation, I think, is the most useful. I think we have indeed missed the essential point or purpose of being together in a long-term intimate relationship.
For me, the deepest purpose of a committed relationship is to cultivate compassion. Compassion in a relationship does not exclude positive experiences, and certainly it does not exclude love. It is just very much larger than any of these experiences. Indeed, compassion, as I am using the word, includes everything that is part of our collective experience: heartbreak that brings us to our knees, overflowing fulfillment, boredom, bedlam, deep peace of mind, anxiety, transcendent sex, helpless rage, jubilant reunions, and eventual death to name just a few of the possibilities. In other words, I am suggesting that compassion is quite a human stew. The recipe includes everything, including considerable quantities of pain, all folded into immeasurable amounts of love, mindfully stirred over a low heat with grandmotherly good humor and a wisdom that can always glimpse a bigger picture. This is what makes compassion really cook.
What I'm suggesting here is an approach to relationship that values compassion above feelings of comfort and love and requires a disciplined, dedicated effort to stay open to the mixed and metamorphosing reality of all our moments together. In a word, this is a practice of saying yes—yes to every eventuality. Yes to the sweet ease of lying together, to the poignancy of our missings and misunderstandings, to our vagaries and vulnerabilities and laughter; yes to surprises (both pleasing and painful); yes to our prodigal losses and our prolific fears; yes to familiarity and comfort. Yes to everything.
We say yes because, when compassion is unqualified and unconditional, nothing is excluded. Approached in this way, relationship is a practice of opening over and over again to the whole human condition as it manifests in the crucible of our intimate, committed partnership. Approached in this way, our relationship becomes a kind of compassion factory, converting everything that happens into a whole and openhearted humankindness.
Because it is easy to misunderstand, I want to clarify what I mean by "saying yes to everything." I am not advocating that we passively accept unwholesome, harmful, unjust, or abusive situations or that we forswear using the word "no" when it is necessary. What I am suggesting is that all our negative feelings—such as hatred, grief, shame, and terror—can all be used in the service of compassion if we hold these experiences together in the light of our present awareness, rather than trying to escape from them, which inevitably makes things worse. The word "compassion" means literally "to be in pain together." In other words, your pain is part of my experience, and my pain is part of yours. There is no escape. Any attempt to escape from your pain or mine is futile. Like trying to escape from quicksand, we will only sink deeper into it.
I'm saying that the only way to "get out of" the unavoidable painful and negative experiences that occur in relationship is to transform them into compassion. This happens when we say yes. This "yes" does not mean that I condone or like what is happening. It simply means that I accept that this pain and negativity exist, and that they exist in us and in our relationship. We are not trying to eliminate them. Rather, we are enfolding them into a larger lovingness, an aware presence, symbolized by the word "yes." When we say yes, there is an alchemy that happens, which can transform even the most extreme negativity into compassion.
Learning to make this transformation is, I believe, the essential challenge of an enduring intimate relationship. This is what is implied in the vows that most married couples take at their wedding ceremony. The vows usually go something like this: "Do you take this man or woman to be the companion of your heart, to have and to hold from this day forth, for better or for worse, for richer or for poorer, in sickness or in health, as long as you both shall live?" Of course, the expected answer is "yes." But we have no idea, really, what we are saying yes to. This yes is untested. We do not know yet the limits of our capacity to accept all the different circumstances that will occur in our life together. We will find out in time. This is the great opportunity that marriage affords—to enable us over time to see the limits of our compassion and to keep expanding these limits. I know of no other endeavor which can do this so powerfully—if we accept the challenge. To do this, we only need to be sure that, whatever may happen to us, "yes" is always the last word we say.
The poet, Wallace Stevens, said it succinctly: "After the final no, there comes a yes / And on that yes, the future world depends." On that "yes," also, depends the possibility of a committed, compassionate intimacy.
Find out about relationship programs with Richard and Antra Kalnins Borofsky at Kripalu.
Reprinted with permission from Right Here with You: Bringing Mindful Awareness into Relationships, Andrea Miller ed., Shambhala Publications, 2011.
Richard Borofsky, EdD, is cofounder and codirector, with his wife, Antra Kalnins Borofsky, of the Center for the Study of Relationship in Cambridge, Massachusetts, where they provide couples therapy and workshops on the practice of relationship.
Full Bio and Programs