Mindful Walking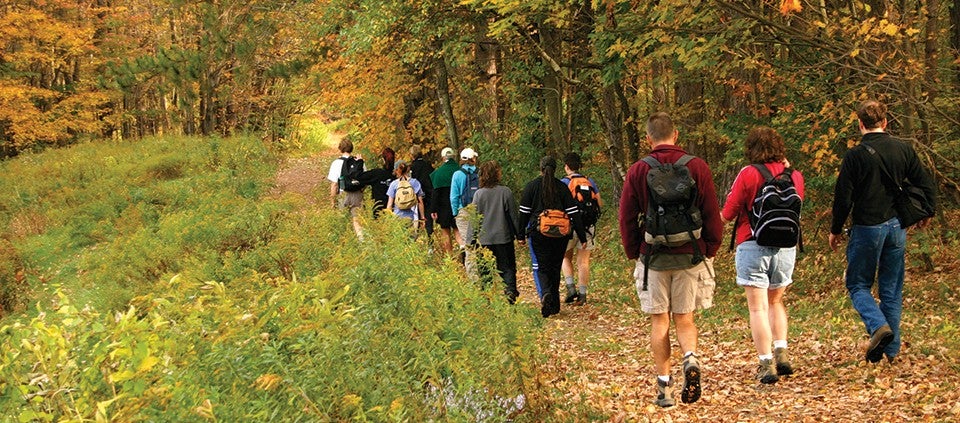 Being here at Kripalu is a precious opportunity to connect with the deeper vital rhythms within. One suggestion for making the most of your visit is to head outdoors onto the beautiful campus and enjoy a mindful walk.
A simple law of nature is that "whatever goes up must come down." So while you're walking, consciously play with gently getting your heart rate up with a comfortable pace or choosing a trail with a slope. Then, after the journey, notice the relaxation that follows you indoors with the next activity.
Another mindful walking variation to explore is that of making the effort to slow down. The body, breath, and mind are holistically connected and so if the body is comfortably slower, the mind and breath begin to relax as well. The spaciousness of slowing down also stimulates vitally important senses—touch, smell, sight, and hearing—to open and absorb nourishing experiences like air from the open sky landing on your skin, freshly forged mountain fragrances and views, or the soothing sounds of your environment being quieter than usual.
Whichever way you choose to go with your mindful walk, know that you made it and that "you are here."
© Kripalu Center for Yoga & Health. All rights reserved. To request permission to reprint, please e-mail editor@kripalu.org.
Randal Williams, E-RYT, has more than 20 years of experience as a workshop facilitator.
Full Bio and Programs