The Moments That Made Us: A Kripalu Timeline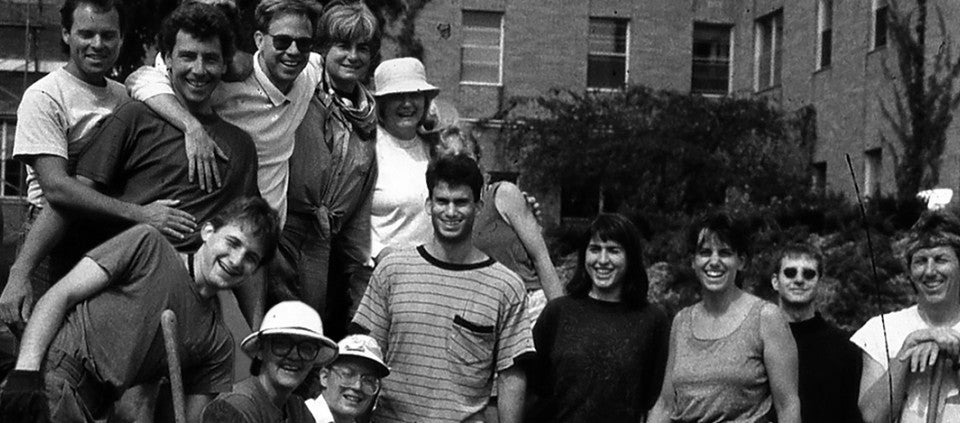 April 4, 2020
From the teachings of Swami Kripalu to the integration of ancient wisdom with contemporary thought, Kripalu has helped to drive the evolution of yoga in the West, and continues to inform its impact in the 21st century. Kripalu's core methodologies, including BRFWA (Breathe, Relax, Feel, Watch, Allow) and compassion for self and others, are always timely—and especially relevant in times like these.
Here we look back at defining moments that have shaped our growth; fortified our commitment to create an awakened, compassionate, and connected world; and inspired our mission: to empower people and communities to realize their full potential through the transformative wisdom and practice of yoga.
1966
Amrit Desai, a disciple of Swami Kripalu, establishes the Yoga Society of Pennsylvania to advance the study of yoga in the West.
1972
The first Kripalu ashram is established in Sumneytown, Pennsylvania, and the first Kripalu Yoga Teacher Training is held the next year. In 1974, the ashram name is changed to the Kripalu Yoga Fellowship, emphasizing the teachings of Swami Kripalu.
1975
The ashram moves to a larger facility in nearby Summit Station, Pennsylvania, furthering Kripalu's vision of creating an established residential yoga retreat and program center.
1983
Kripalu Yoga Fellowshop relocates to Stockbridge, Massachusetts, and Kripalu Center for Yoga & Health is established. The retreat center sits on land once lived on by the Stockbridge-Munsee Band of Mohicans. The main building, known as Shadowbrook, is a former Jesuit monastery built on what was the site of a Gilded Age cottage owned by Andrew Carnegie.
1991
In response to growing interest in yoga, meditation, and holistic health, Kripalu offers an increasing number of yoga teacher trainings and programs with visiting presenters.
The Kripalu Yoga Teachers Association is formed. Now known as the Kripalu Yoga and Ayurveda Association, it supports our graduates who are taking the gifts of yoga, Ayurveda, and mindful outdoor experience into their communities, deepening Kripalu's social impact in the world.
1994
Desai is asked to step down from his position as spiritual leader amid revelations of abuse of power. In the wake of his departure, the integrity of the original teachings carries Kripalu through the transition from guru-centered ashram to secular retreat center.
1999
Kripalu shifts from religious society to educational organization governed by a Board of Trustees.
2001
The Teaching for Diversity fund, now known as the Jonathan P. Schwartz Teaching for Diversity fund, is created to support yoga teachers sharing the practice with those who might not have access otherwise.
2005
The Kripalu School of Ayurveda is founded, empowering our students to live their fullest life through the cultivation of nourishing practices that foster vitality and well-being.
2009
The 80-room, eco-friendly Annex, using building materials salvaged in the wake of Hurricane Katrina, opens to guests.
2010
In collaboration with researchers at Brigham and Women's Hospital, the Kripalu Institute for Extraordinary Living (IEL) launches groundbreaking research on the impact of yoga on physical and mental health. In 2017, the IEL evolves into RISE, a Kripalu social-impact program that brings stress-resilience trainings to people in law enforcement, education, healthcare, and human services.
2016
The Kripalu School of Integrative Yoga Therapy is founded, providing students with the skills to bring yoga therapy into mainstream life to facilitate balance on the physical, energetic, psychoemotional, intuitive, and spiritual levels..
2018
The Kripalu School of Mindful Outdoor Leadership is founded, training students to become Mindful Outdoor Guides, called to share nature's gifts by integrating their love of the outdoors with mindfulness..
2019
Through scholarships, Kripalu provides $250,000 annually for individuals to train as yoga teachers, yoga therapists, Ayurvedic practitioners, and Mindful Outdoor Guides, and for frontline professionals to attend RISE.
2020
As we face the unprecendented challenges of COVID-19, we are dedicated to continuing to serve our community, providing resources for building resilience, cultivating calm, and navigating uncertainty. Moving into the future, we aspire to become a place where everyone feels that they belong, and where everyone can find connection and healing.