Stories of Yoga and Recovery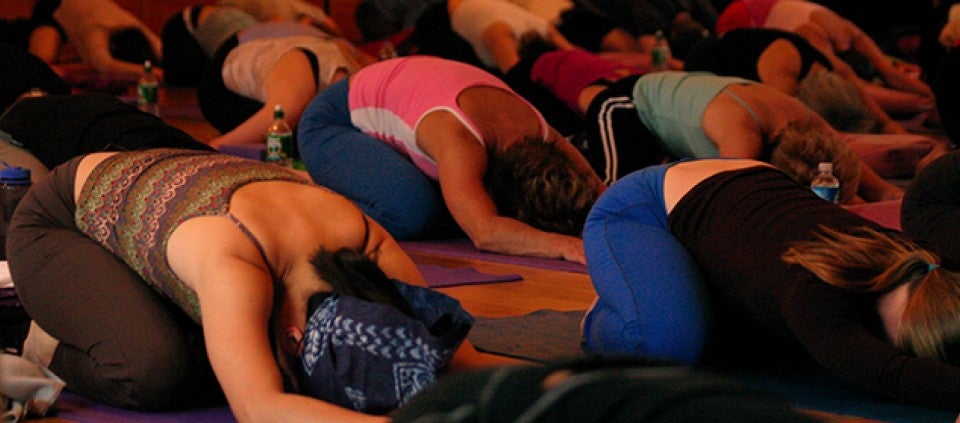 Research shows that yoga, meditation, and mindfulness are powerful tools for recovery in healing from addiction. We asked three presenters who've experienced the impact of these practices to tell us about hitting bottom and the journey back.
Aruni Nan Futuronsky has been on the Kripalu faculty for more than 20 years and developed the Kripalu life coaching methodology. She is author of Recovering My Voice: A Memoir of Chaos, Spirituality, and Hope and Already Home: Stories of a Seeker.
When did you know that you had hit bottom and had to make a change?
Life got my attention. Left to my own devices, I might not have noticed small signals about the unmanageability of my life, like having no working speedometer in my car, living with no real furniture in my apartment, and needing to drink or drug before work just to show up. I was pushing through those subtle reminders—they became normal to me. But one hot summer day in 1986, I woke up mid-afternoon and noticed that I was lying on the floor of my apartment in New York City, rolling from side to side, hitting my head as I rolled, and I had absolutely no idea how long I had been doing this. That frightened me to my core.
Through no apparent mental functioning, I got up from the floor, made my way to the telephone, and called a Twelve Step information number. There was a meeting starting in 10 minutes, just two blocks from my house. Without any apparent decision, I found my shoes and my keys, walked to the church, and went in. The people in that room looked absolutely nothing like the people I was used to in my life—at that point, I lived in a very sheltered feminist environment. Yet every single one of them spoke my life aloud as they shared their stories. I had never felt so at home. I went back the next day, and then the next. It was the choice-less choice.
Why did you turn to the tools of yoga, meditation, and mindfulness?
It wasn't my idea to pursue yoga and meditation. The Twelve Step program encourages something called "conscious contact," through prayer and meditation. At first, I didn't know what they were talking about—had no clue. Somewhere in my third year sober, I heard about Kripalu and came looking for conscious contact. I fell in love with the land, the community, the food, the classes, and decided to spend a summer volunteering here. I found that, in doing yoga on the mat, my mind would soften and quiet, and I felt more connected to spirit. Meditation quieted my anxiety and fear. Using mindfulness as the framework of my life gives me full permission to continue practicing and learning and doing my best.
How has choosing to teach and speak publicly about your experience contributed to your healing?
Giving back. Speaking aloud. Serving another. Being useful. Both in the world of yoga and in the world of recovery, service is an essential keystone. By giving it away, by talking, teaching, supporting, offering, and contributing, we are freed from our addictive perspective. I believe that we are as sick as our secrets. When I speak my truth, I join the circle of healing, the interplay of giving and receiving that is the essence of true healing.
***
Rolf Gates, author of Meditations from the Mat: Daily Reflections on the Path of Yoga, is the cofounder of the Yoga + Recovery Conference at Esalen Institute in Big Sur, California, and a presenter for Kripalu's Yoga, Meditation, and Recovery Conference.
When did you know that you had hit bottom and had to make a change?
It is no exaggeration to say that hitting bottom began with my first drink and ended with my last one. There has not been a day in my life in which drugs and alcohol were a good choice. Putting down the drink and the drug was the first step toward living the life that I was born to live.
Why did you turn to the tools of yoga, meditation, and mindfulness?
For the first couple of years of sobriety, the intense physical well-being I experienced by not putting poisons into my system, the support I received from Twelve Step programs, and the power of prayer was sufficient to transform my life from black and white to living color. With that foundation of physical sobriety, and my first steps toward spiritual practice, it became clear to me that I was going to have to comprehensively engage with the mental, emotional, and physical traumas of childhood abuse and chemical dependency. It was my great good fortune to be living a couple of hours from Kripalu, where I was introduced to the eight limbs of yoga, specifically the ethical practices (yamas and niyamas), devotional attitudes, postures, breathwork, and meditation. Over the last two decades, these practices have helped to facilitate my physical, emotional, and spiritual healing. At an emotional level, I've been able to rise to the occasion of being a husband and parent. Mentally, I believe that I'm experiencing healing from brain trauma caused by substance abuse—as time goes on, I'm able to think through things with more skill. I believe I'm experiencing what research indicates as a heightening of my left pre-frontal cortex function due to regular meditation.
How has choosing to teach and speak publicly about your experience contributed to your healing?
The work that I do with the Yoga, Meditation, and Recovery Conference allows me the opportunity to pass on to others what was so generously given to me when I needed it most. To say thank you to those who have helped me—not with words but with action—has been one of the great joys of my life.
***
Tommy Rosen has studied and practiced yoga for 20 years, and is a certified vinyasa and Kundalini Yoga teacher who focuses on yoga for addiction recovery. He is the founder of the Recovery 2.0 online conference.
When did you know that you had hit bottom and had to make a change?
I had been smoking cocaine and doing heroin. My life had fallen completely from grace. I knew I needed help for a long time before I actually made a phone call to my father. I did not intend for that phone call to be a cry for help. I was looking for any shoulder to cry on. My father had always been there for me. When he broke down crying, it was too much for me to bear. He pleaded with me to go to rehab. My resistance broke and I agreed to go. That turned out to be my bottom, though I didn't know it at the time.
Why did you turn to the tools of yoga, meditation, and mindfulness?
There came a point in my recovery where I realized that I was still stuck in the energy of addiction. My teacher, Guru Prem, taught me how to use yoga and meditation to detoxify myself in a more profound and complete way. I was able to move the issues out of my tissues and achieve a deeper recovery.
How has choosing to teach and speak publicly about your experience contributed to your healing?
Yogi Bhajan used to say, "If you want to learn something, read about it. If you want to understand something, write about it. If you want to master something, teach it." My experience of teaching has helped me move along the road toward mastery. My healing from addiction is inextricably linked with the process of passing it along. It has completely informed my perspectives on addiction and life in general.
© Kripalu Center for Yoga & Health. All rights reserved. To request permission to reprint, please e-mail editor@kripalu.org.