Uncertain Times Call for Joyous Dancing!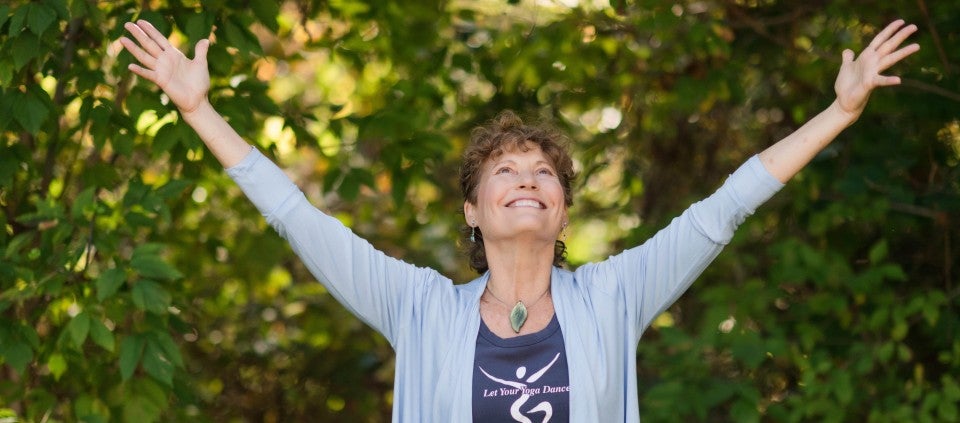 March 28, 2020
As I sit here alone in my house, my thoughts go out to all of you. Though these are uncertain times, I feel grateful knowing that, over my 35 years of teaching at Kripalu, I have been given an array of tools for increasing health and well-being. Because I am the CJO (Chief Joy Officer) of Let Your Yoga Dance®, I take the practice of joy very seriously. After all, joy is a practice; I've spent a lifetime studying it.
In these days of physical distancing, I'd like to share with you a five-part Let Your Yoga Dance routine to help you connect with joy. This can be done in as little as 10 minutes, or as long as 45 minutes. You don't need a lot of space at home to practice these sequences, and they can be done sitting or standing. The movements can either boost your energy or calm you down, depending on what you need. I call these Energy Boosters and Energy Balancers. Gentle yoga and qigong are also an integral part of the mix—as is music!
Music to Expand Your Joy (Energy Booster)
Music has a direct effect on our hormones; it's like a natural antidepressant. Hearing songs you love can release the neurotransmitter dopamine in the brain, leading to increased feelings of happiness and well-being. It also releases norepinephrine, a hormone associated with feelings of euphoria. Start by making a playlist of your favorite upbeat songs, tunes that bring a smile to your face and make you feel good. Some of my favorites include Pharrell Williams' "Happy"; "One," from the soundtrack of A Chorus Line; and Bobby McFerrin's "Don't Worry, Be Happy."
The Synovial Shake (Energy Booster)
The Synovial Shake accesses prana, or qi—life-force energy—and helps lubricate the joints in preparation for movement.
Start by breathing deeply, in through the nose, out through the mouth, with an audible exhale. Do this about five times.
Now wiggle your fingers; look at them, notice how they move. Keeping the fingers moving, start to shake the wrists. Then the elbows. Add the shoulders. Now let your arms flail about, like perfectly cooked angel hair pasta. Bring movement to other areas: the neck, spine, hips, knees, ankles, toes. Continue breathing. Imagine all this nourishing fluid bathing and opening every joint in your body.
Tapping, Massaging, Dancing It Out (Energy Booster)
Place your fingertips on your head and massage your scalp. Then tap your fingers all the way down your legs and feet and back up again. Curl your fingers into soft fists and gently tap your entire abdominal region. Now release the tapping and start to shimmy the whole body, dancing it out as wildly as you can, for as long as you'd like. No room for the inner critic here: We're ALL dancers!
Flowing Motion (Energy Balancer)
Stand or sit with your legs hip-width apart, arms by your sides.
Inhale deeply and reach your arms forward to heart level.
Exhale, and slowly lower the arms down by your sides. Repeat five times.
Now let the arms explore a new movement path, perhaps inhaling them out to the sides and up, focusing on your breath and present-moment awareness. Be creative. Enjoy this soft, balancing dance of grace.
Metta Relaxation (Energy Balancer)
Lie down on the floor; you can bring your legs up the wall if you wish. Or sit tall on a chair. Let your whole body relax. Begin to think of Mother Earth and all the inhabitants who dwell on this beautiful planet. Send metta (loving-kindness) to everyone, including yourself:
May we be protected and safe.
May we be contented and pleased.
May our body-mind-spirit be lifted in grace.
May our lives unfold smoothly with ease.
Download music for dancing! Through April 1, Megha is offering two free MP3, Moontides and Power and Grace, as a gift to you.
Megha Nancy Buttenheim, MA, E-RYT 1000, founding director of Let Your Yoga Dance® LLC, specializes in bringing a gentler, kinder yoga practice to the world.
Full Bio and Programs