Vegan Butternut Squash & Apple Bisque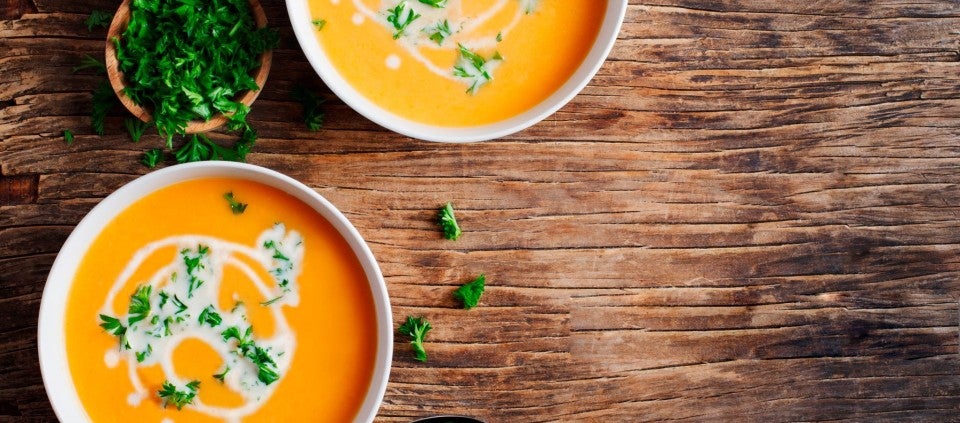 Most bisque is made with cream, but this one gets its silky texture from pureed butternut squash and a touch of coconut milk. You could even use coconut cream for a richer consistency. Apple cider and cinnamon make it the ideal autumn soup.
Serves 4
INGREDIENTS:
5 cups peeled, seeded and cubed butternut squash (about 1 pound)
2 tablespoons extra-virgin olive oil
1/2 cup minced shallots
1 teaspoon minced garlic
1 teaspoon ground cinnamon
1/2 cup apple cider
2 cups Vegetable Stock (page 000)
1/4 cup coconut milk or another non dairy alternative
1/2 teaspoon cider vinegar
1/2 teaspoon fine sea salt
1/8 teaspoon ground black pepper
1/2 cup diced red apples with skin
1 teaspoon chopped fresh parsley
INSTRUCTIONS:
Heat a medium soup pot over low heat. Add the squash and olive oil, shaking the pot to coat the squash. Cover and cook until the squash is tender, 3 to 5 minutes. Uncover, increase the heat to medium and cook until the squash is lightly browned and caramelized, 2 to 3 minutes, stirring now and then. Once the squash is caramelized, stir in the shallots, garlic, and cinnamon, and cook for 2 minutes.
Add the cider and bring to a simmer, scraping the pot bottom to loosen any browned bits. Add the stock and bring to a boil over high heat, then reduce the heat to medium-low, and simmer until the flavors blend, about 10 minutes.
Add the coconut milk and cider vinegar, and blend the mixture with an immersion blender or in an upright blender. If using an upright blender, avoid a blowout by slightly cooling the soup and partially removing the center lid of the blender. Puree the soup until it is super smooth.
Pour the soup back into the pot (if you used an upright blender), bring to a gentle simmer, and season with the salt and pepper. Pour into bowls and garnish with the apples and parsley.
Ayurvedic Insight: With warming spices and earthy yams, this family-friendly soup balances all three doshas. Enjoy it as light supper in the cooler months.