A World Traveler Finds Adventure on the Path of Yoga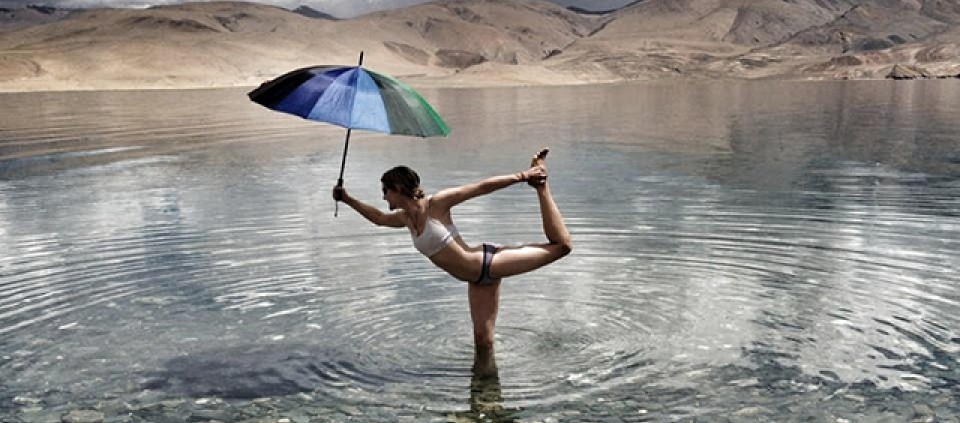 Kripalu Yoga teacher Katie Hagel recently discovered that her first American ancestor was born on the Mayflower and was named Peregrine, from the Latin for "pilgrim" or "wanderer." It's no surprise, then, that travel and adventure are in her blood.
While working as a travel guide in China, Katie discovered yoga. She was usually the only foreigner in the classes, most of which were taught in Chinese. "I learned the names of the yoga poses in Mandarin before I ever learned them in English or Sanskrit," she says. Katie quickly fell in love with the practice and decided to take a few months off to travel to India, where she spent time living in an ashram. After returning to China, Katie knew that it was time for a major shift. During an online search for yoga retreat centers with long-term volunteer programs, she stumbled upon Kripalu. "Here I was, traveling halfway around the world to study yoga, when Kripalu had been in my backyard all along," says Katie, a Massachusetts native. Soon after, she packed her bags and left China for Kripalu.
Katie spent eight months volunteering at Kripalu before going on to earn her 200-hour Kripalu Yoga teacher certification. Spending time at Kripalu provided Katie with a more yogic perspective on adventure. "It's no longer about thrill-seeking and checking off items on my bucket list," she says. "While at Kripalu, I realized that what I love most about both yoga and adventure experiences are the opportunities they provide for self-discovery, and the meaningful connections I can make through sharing these experiences with others. For me, the yogic path and the way of the adventurer are one and the same. To walk this path, one must be willing to embrace challenges as opportunities for growth, and commit to living a meaningful, fulfilling life."
Equipped with new tools honed at Kripalu, Katie recently returned to Asia to lead summer programs in Indonesia and the Himalayas for the international education company Where There Be Dragons (WTBD). "On ancient maps, dragons were drawn to symbolize the unknown, and to travel beyond the familiar was to go 'where there be dragons'," Katie says. "At WTBD, we work with high school and college students who are willing to venture into the unknown for the sake of self-discovery. I work with my WTBD students the same way a Kripalu Yoga teacher works with her students. Instead of guiding my students into unfamiliar positions on the yoga mat, I put them in unfamiliar cultural settings, such as a remote village deep in the jungles of Indonesia." Removed from the comforts of home, her students learn to adapt to radically different living conditions and ways of being that challenge their belief systems. Katie reports that they consistently return home more confident, more self-aware, and with an expanded view of the world and its possibilities.
Katie now lives in the Berkshires and works as an adventure-based counselor, facilitating therapeutic outdoor programs and mind-body-spirit workshops for men and women in recovery from drug and alcohol addiction. She's a member of the Berkshire Kripalu Community and regularly frequents Kripalu to attend yoga classes, assist in programs, and take advantage of opportunities for professional development. "I love that I can just zip on over to Kripalu to attend programs that are relevant to my work," says Katie. "No matter where the world takes me, Kripalu will always be my spiritual home."
© Kripalu Center for Yoga & Health. All rights reserved. To request permission to reprint, please e-mail editor@kripalu.org.