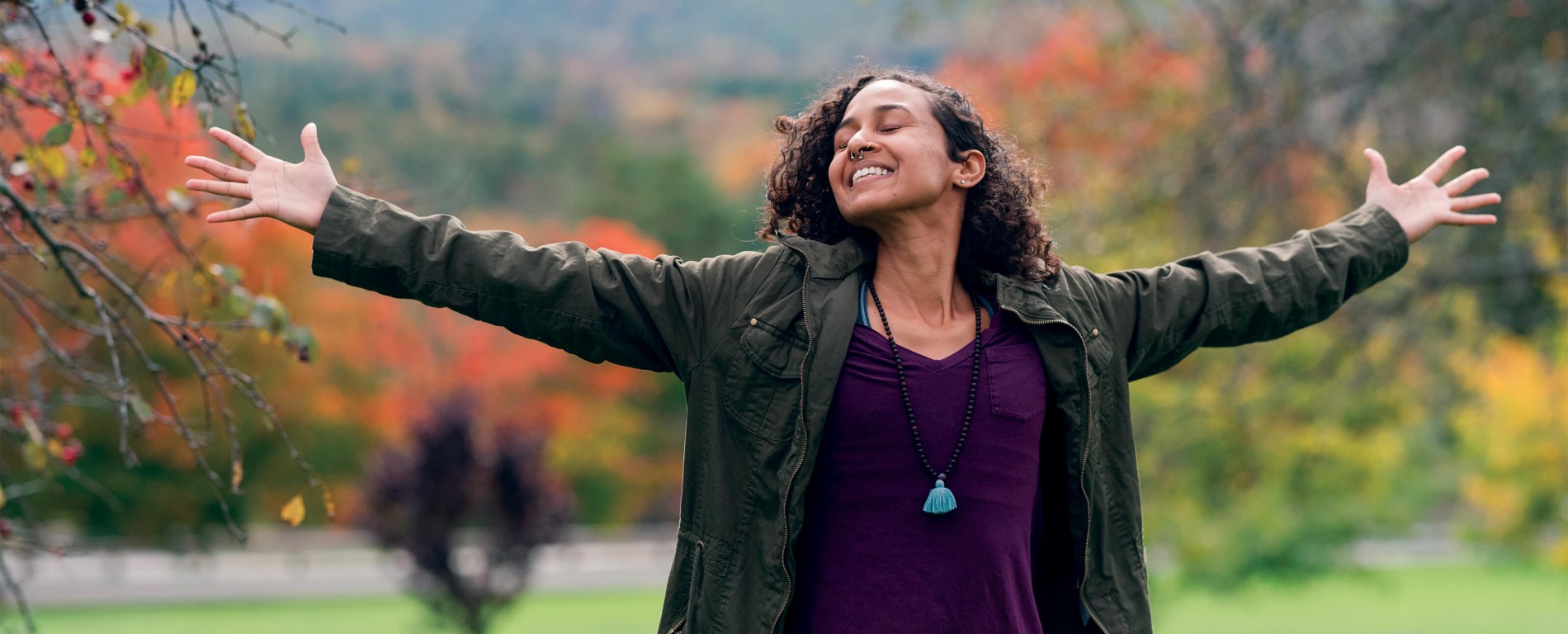 Spread the love. Make a difference.
More than a present, your gift to Kripalu creates someone's future.
Change a life by giving the gift of Kripalu this holiday season. Spread the love by donating to the Kripalu scholarships and grant funds to help raise $10,000 . Every dollar makes a difference and we are continuing to accept donations through the end of the year.
Each year, generous gifts to Kripalu's on-site programming and outreach initiatives help thousands of people of all ages and backgrounds gain the tools they need—tools rooted in yoga, mindfulness, and compassion—to make long-term changes in their lives and in our world.
With your donation, you deliver Kripalu's uplifting teachings directly to communities and individuals who may not otherwise have access to them. Any amount—400 people donating $25 each—helps us reach our goal.
Every dollar makes a difference.
Reaching $2,000 provides a Kripalu Yoga teacher with a grant to supply equipment such as blocks, blankets, props, and cover 12–16 weeks of yoga instruction at a place in need.
Reaching $5,000 provides two individuals with scholarships.
Reaching $10,000 provides four individuals with scholarships.
Our graduates are change agents who are bringing yoga, yoga therapy, Ayurveda, and mindful outdoor leadership to diverse populations all over the world. They can't do it without your help!
---
Read the Stories That Donors Made Possible
LEILA KUBESCH
Kripalu School of Yoga graduate (Rachel Greene Memorial Fund)

"Señora Kubesch," a student from Honduras confided in Leila Kubesch, "My heart feels not compressed. I don't cry now."
Daneen
Kripalu School of Ayurveda graduate

"I was trapped," Daneen says. "I have freedom now; Freedom in myself. I can breathe now. It gives my clients hope to see the change in my life."
Omar Ananías
Kripalu School of Yoga graduate

"In offering my students Kripalu Yoga, I'm empowering them with the possibility of being or doing anything, knowing that we all are and always will be the most infinite source of love."
Kerry Harling
Kripalu School of Ayurveda graduate

"I find it tremendously rewarding to see people overcome their health challenges and regain that lust for life that comes from being full of energy and vitality. When you feel healthy and happy, it has a ripple effect, touching every aspect of your life and igniting your passion for everything that life has to offer."
Learn about more ways to give.
Questions? Please email or call David Dashiell at davidd@kripalu.org or 413.338.3284