A Path to Freedom: An Unexpected Journey in the Kripalu School of Ayurveda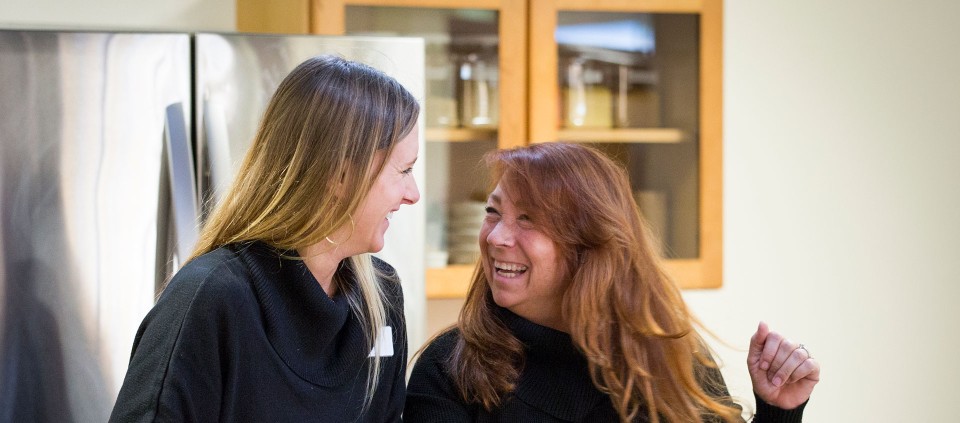 Daneen had been in recovery from drug and alcohol addiction for more than three years when she enrolled in the Kripalu School of Ayurveda ... an idea that suddenly didn't seem so great once she was on campus.
"I thought, 'What am I doing here?'" Daneen recalls. "I was surrounded by all these yogis—and I don't even like yoga. I felt like a black sheep."
Erin Casperson, the School's Dean (above left, with Daneen), reassured her: "Find your own path."
Daneen took the advice. But she couldn't have done it without the help of Kripalu donors. Gifts to Kripalu's Scholarship Fund made it possible for Daneen to earn her Ayurvedic Health Counselor certification. She graduated in June 2018, and started a business called the Loving Ladle, making organic soups, kombucha, ghee, and elixirs. She offers Ayurvedic health consultation, dietary counseling, meal prep, and personal shopping for her clients, many of whom are in recovery.
"I was trapped," Daneen says. "I have freedom now. Freedom in myself. I can breathe now. It gives my clients hope to see the change in my life." She adds, "Kripalu was such a gift. I want to give back."
Find out more about the Kripalu School of Ayurveda.
Find out how to donate to Kripalu's mission-driven Schools and outreach initiatives.
© Kripalu Center for Yoga & Health. All rights reserved. To request permission to reprint, please email editor@kripalu.org.