Can Ayurveda and Herbal Remedies Help Your Pet?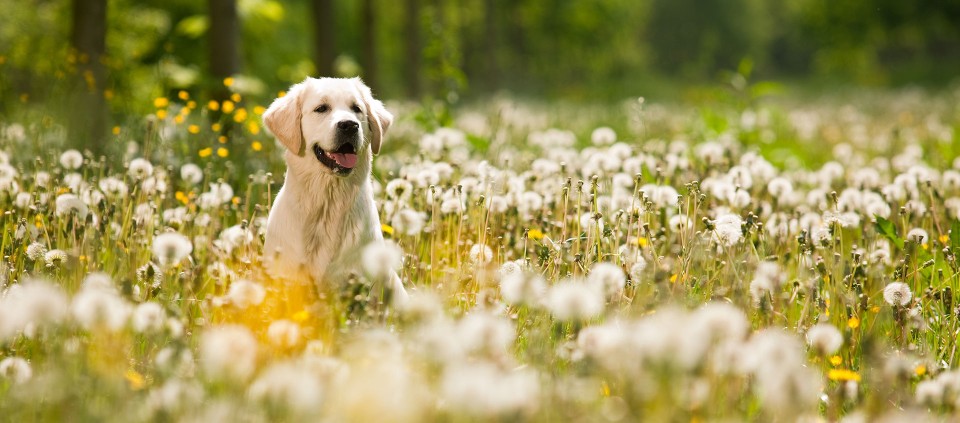 by Julie Bolitho
A few months ago, my seven-year-old cat, Nyla, was given days to live. She was diagnosed with hypertrophic cardiomyopathy, a condition that caused the left chamber of her heart to double in size, slowing the blood flow to her extremities. For days, her vet and I tried to keep her comfortable in hopes that she would last long enough for my devastated husband, who was away for work, to say goodbye.
The day he returned was the first time Nyla had eaten in five days—the vet was pleased but not overly optimistic. She later told me she expected I would call within days to tell her that Nyla had died, but days became weeks, and Nyla, against all veterinary odds, put on much-needed weight. While our veterinarian told us that we would never have the same cat again, she is, by all counts, the same cat, and as spry as ever—batting at our dogs from unseen heights and camping outside the garden shed in hopes of catching a rat she has never managed to snag. Despite her beautiful progress, we remain uncertain as to how long she might yet live, as her heart murmur persists. Nonetheless, her healing has been a miracle—one that I attribute to a combination of veterinary science, deep and conscious love, and two blends of herbal remedies.
My decision to give Nyla remedies alongside her medication came from my own personal experience with illness, having learned that Western medicine could only take me so far and that wellness was achieved with a much more holistic approach. Similarly, Laurie Dohmen and Kris August, both veterinarians and graduates of the Kripalu School of Ayurveda, discovered the power of plants through personal experience.
Kris first started using herbs in teas, and after she began growing these herbs in her garden, her clients also became interested. She realized she didn't have enough information to use herbal remedies diagnostically, so she expanded on her studies to include Ayurvedic and Chinese herbs. Likewise, Laurie, who was on a parallel path of using organic, herbal remedies for her family members, felt called to build the knowledge she needed to offer this to her clients as well.
Kris finds the Ayurvedic approach to treatment intuitive: "Ayurveda is based on natural connections. It connects qualities of people with elemental qualities of earth, water, and air." For her, Ayurveda answered a lot of questions about life, she says—about herself, her family, and her animals. While Ayurvedic principles are based on the idea of the doshas, or three constitution types, Kris finds that Ayurveda for her is an extension of Western medicine, despite the different language and framework used in diagnoses. She can look at conventional medical treatments in the same light as Chinese or Ayurvedic remedies—that things can be seen as "warming" or "cooling," for example. She can now observe living things and view them in terms of their doshas.
Both veterinarians changed nearly three-quarters of their treatment practices after training in natural remedies. They found that, while treating the same diseases in the same types of animals, there are fewer side effects with herbal treatments. The herbs, in their complete state, buffer against the side effects often seen when using a single, extracted chemical compound—as found in a pharmaceutical drug.
While both vets caution that every client is different, and therefore each animal's needs are different, Kris notes that ashwagandha, a powder made from a small Indian shrub, is something she frequently uses in palliative care in her practice. Ashwagandha, a powerhouse in Ayurvedic treatments, has been used for a variety of human and animal conditions for more than 3,000 years. The benefits of the plant are in large part due to a high concentration of withanolides, which help decrease inflammation and improve energy levels.
Both Kris and Laurie stress the need for medical practitioners to be open-minded and to do research before dismissing natural approaches to medicine; they personally have seen how Western scientific frameworks can and do apply to natural remedies. They also both value that Ayurveda looks to the wellness of both physician and patient. "Ayurveda sees that bigger picture," Laurie says.
"As you saw with your cat, there is still so much room for veterinary knowledge to expand," Kris adds.
Find out about trainings in the Kripalu School of Ayurveda.
Julie Bolitho is a Kripalu Yoga teacher from northern Michigan who currently resides in Oxfordshire, England. A Truman Scholar and a published poet and essayist, she is currently at work on a memoir. juliebolitho.com, sanctuarygrace.com
© Kripalu Center for Yoga & Health. All rights reserved. To request permission to reprint, please email editor@kripalu.org.