A Faculty Member's Reflections on Kripalu's Opening Days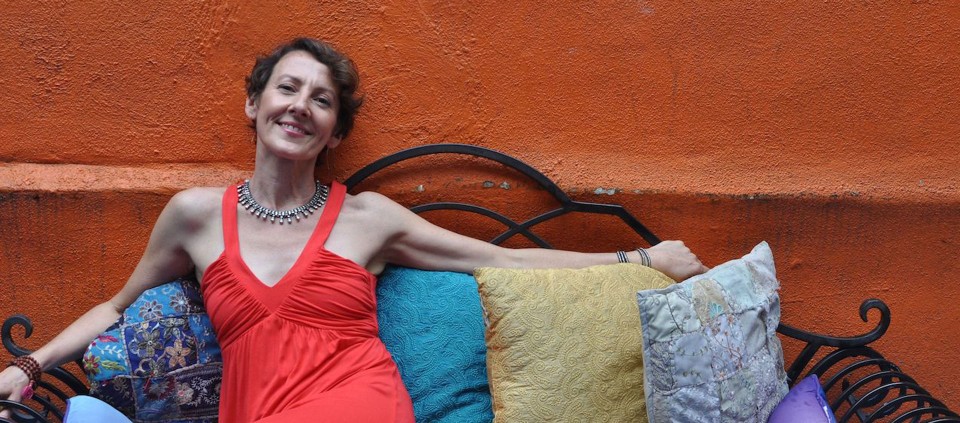 August 21, 2021 was my first day teaching live, in-person classes at Kripalu Center in 18 months.
Getting ready that morning, I was reminded of all those awful yet wonderful and momentous first days of childhood—the nerve-racking, gut-wrenching, full-of-anticipation-and-dread first days of school, which we all endured. "What will it be like? What should I wear? How will I do? Will people like me? Will I know anyone? Will I feel awkward? Embarrassed? Lonely? Will anyone remember me? Will I do okay?"
If you know me or Kripalu, this may surprise you. I'm a yoga teacher, for God's sake. Yoga teachers teach people to relax. And Kripalu has been my home for 17 years now. I've had a lot of practice doing what I do. I've even been teaching nonstop for the last year and a half. However (and this is a big however), all of that has been online.
Teaching to a room full of moving, breathing, posture-shifting, mask-wearing, unmuted humans is not the same as "Hollywood Squares". It amazes me that we seem to adapt to whatever we need to adapt to—but we do! The "Hollywood Squares" world of Zoom is what I've become used to, and I adore that Zoom world and my Zoom community!
Most of us like what we're used to. Even those of us who tout the importance of expanding the edges of our comfort zone. We like what we know. We tend to view the unknown as scary. So, on Saturday morning, I'm not ashamed to admit, I was scared. Anxious, butterflies in the stomach, a little nausea, the whole nine yards. Thankfully, I'm pretty good at appearing calm and relaxed when I'm not. And very thankfully, within a very short time, the fear began to fall away.
My first session was leading a Share Circle—an opportunity for strangers to come together and speak their truth. A chance for humans to show up for other humans in the best way we know how—attentive, compassionate, caring, generous. Within moments, my trepidation began to transform into gratitude. My stomach unknotted and my breath expanded. As it seemed to for everyone in the room. After 17 months of isolation, these beautiful people brought their very best selves forward, and it was glorious. Despite faces half covered in masks, despite us all being very unused to such gatherings, despite trepidations and fears that I'm sure many of us had, the magic that is Kripalu still happened. As it always does. Twenty-five or so people who knew nothing about one another came together, and there was grace. There was beauty. Courage. Letting go. Connection.
That session was followed by more of the same, in Meditation-in-Motion, Yoga, and Let Your Yoga Dance (Oh, my God, what fun! To dance freely, with others, after all this time.) Grace, over and over again. The grace of grateful humans so thankful to be together, to be there, to be practicing with one another, to be alive.
First days. Trepidation turned to joy. This is so often the case when we risk the unknown, and when we're willing to be with the discomfort of the unfamiliar. I forget again and again.
How glorious the remembering.
---
Read more on Jurian's website.
Jurian Hughes, E-RYT 500, YACEP, MFA, Kripalu School of Yoga senior faculty, is a Let Your Yoga Dance® teacher trainer, writer, speaker, performer, voice coach, and mentor.
Full Bio and Programs