Finding Home: A Path of the Heart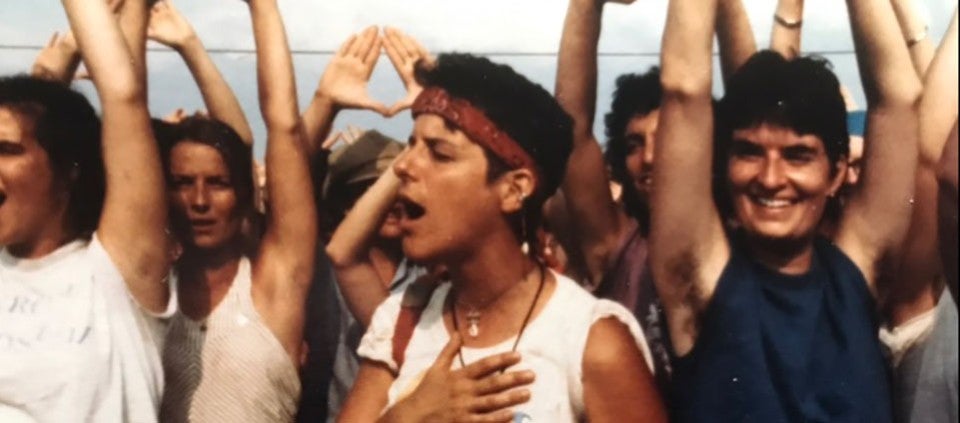 It was the summer of 1989, and I was driving north on the Taconic Parkway, sobbing my eyes out.
After 15 years living in New York City, I was headed to the Berkshires to spend the summer volunteering at the Kripalu ashram. The tears started as soon as I left my East Fifth Street walk-up and didn't stop until I found myself coasting up the Kripalu driveway, embraced by two rows of tall, spacious trees.
I didn't understand why I was crying. What's the big deal? I thought. I was returning to New York in August, and to my high school teaching job.
A few years earlier, after many years of active addiction, I had been given the gift of sobriety. In my attempts to explore body-centered spirituality as a newly sober woman, I found Kripalu and attended several powerful programs. Spending the summer there, attending classes on living a spiritual lifestyle, seemed like the perfect next step.
Yet Kripalu in its structure was a heterosexual, patriarchal hierarchy led by a male guru, and I was a radical lesbian feminist. What was I thinking?
I believed that matriarchy was our only hope for saving the planet. I attended women's-only conferences, was part of a Jewish lesbian political group, listened exclusively to women-made music, attended women-only dances, and felt smugly and positively assured about my choices. (That's me with my hand on my heart in the photo above, at the Women's Peace Camp in Seneca, New York, in 1983, during a protest at the Seneca Army Depot.)
I was right: Matriarchy was the way. Why would I leave my community? Why would I leave my new relationship—my first sober relationship at that?
Because in my heart and in my belly, deeper than my lesbian soul and beneath my political fury, I knew it. I felt it.
I belonged at Kripalu.
My friends were suspicious. There were a few raised eyebrows. I downplayed the role of the guru. "Oh, he isn't in residence much," I heard myself say.
So, on that weepy June day, I moved into the Big Sister's Dorm, now known as the Forest Room.
Those first weeks were rich, saturated with learning and hard work. I made instant connections with fellow volunteers who were also part of the 12-Step community. We went to meetings together while diving into the teachings of Kripalu Yoga on and off the mat.
I loved and needed this community.
At the end of that summer, I received another internal message:
I want to give myself a year here, for my 40th birthday.
I sublet my Manhattan apartment to a guest I met in the whirlpool, took a leave from my job, and extended my stay at Kripalu for one more year.
That was 30 years ago, almost to this day.
Kripalu has honored and supported me, as a lesbian, in helping me become my authentic self. The practice of being present in the moment, the practice of accepting life as it is ... these two came together as powerful pillars.

To be with myself as I was, to offer myself to others as I showed up in that moment—these simple yet profound yogic principles gave me freedom, the room to breathe, and a growing understanding of myself—and they continue to do so. l learned that accessing the stillness of my intuitive wisdom makes me a stronger, more effective vessel to support the change I want to see in the world.
With that in mind, I created a program called the Lavender Spirit in the 1990s. Open to the breadth and depth of the LGBT experience, the program offered Kripalu's teachings back to my queer community. A lot of healing happened during this program—for me, for the participants, and for the Kripalu community at large. Coming together, claiming our voices, and honoring our differences while celebrating the commonalities that join our hearts—this is the Kripalu path; a path open to everyone.
My Kripalu years have unfolded with grace and struggle, victories and challenges, and as the external structures have shifted, my internal commitment has strengthened.
Here are just a few of the gifts with which I have been blessed:
Trusting my gut, my feeling self, rather than relying only on my mind
Utilizing my mind to support the flow of positive life force around me, rather than participating in the illusion of controlling what is
Offering to others what I have been given
Knowing that as I practice being myself authentically, others are given access to themselves
Continuing to feel and grow and abide in this precious moment
Understanding that, no matter the content of the moment, it is mine and I am safe
Remembering that being in the moment always works. No matter what I am given, I have tools to find my way forward.
In considering the parallels between my two communities, the lesbian-feminist movement and Kripalu, I ponder, I return to the heart, and I process through my feelings and intuition.
My heart was opened in New York City. I felt, I rallied against, I fought for change.
Then I discovered my Kripalu home. And here my heart has stayed.
Find out about programs with Aruni Nan Futuronsky at Kripalu.
© Kripalu Center for Yoga & Health. All rights reserved. Email us to reprint.
Aruni Nan Futuronsky is a Kripalu Yoga teacher, life coach, and Legacy Faculty member for Kripalu R&R and Kripalu programs.
Full Bio and Programs