Forging an Edge, or How to Audition for The Voice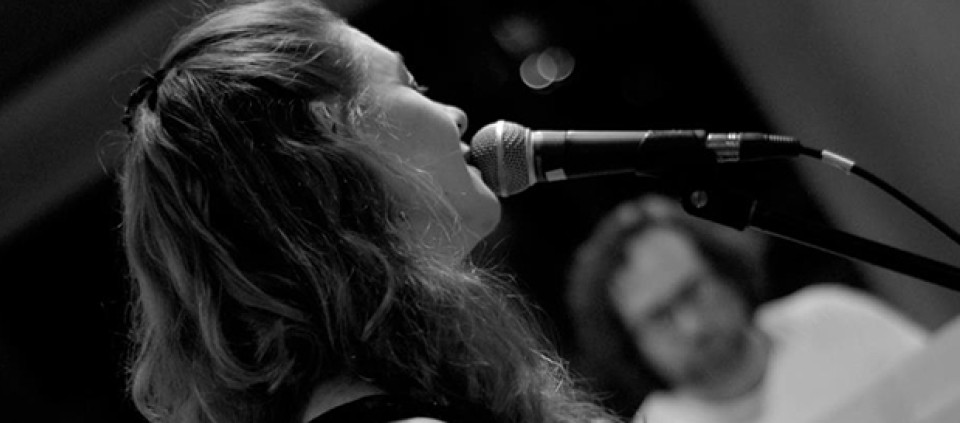 Prior to attending yoga classes, The Edge, to me, was a quiet Irish man who played reverb-y guitar, no one I had to worry about confronting. My yoga instructors think differently: the edge is a place for mindful exploration, like Yosemite or the Everglades, where we can stretch ourselves into new territory, bit by bit. My teachers demonstrate this with hip openers or Headstands, poses that can feel scary, all that roiling sensation in the groin or brain. They're talking about gradual expansiveness. The trick is to remain unattached to any outcome. No big deal if I don't spot an alligator. But I don't always listen. I jam myself into Pigeon and stay there until I'm told to let it go.
Perhaps this is why I find myself, in my 40th year, outside the Javits Center in New York City at 6:00 am in February, ready to audition for the TV show The Voice. I am so edgy in this moment that I don't know what to do with myself. I have an Artist Pass (I'm an Artist!) and a hotel room at the Gershwin (not a coincidence). I have a sassy red audition dress, borrowed from my 20-something officemate back in Stockbridge. The trick is to remain unattached to the outcome.
Someone checks my Artist Pass at the door, the first of seven times, and then I'm in. We take an escalator down to a carpeted conference room the size of a Bed Bath and Beyond, filled with what looks like thousands of metal chairs. There we're shepherded to yet another line, for wristbands.
I'm not the oldest one. Lots of grown women like me wear hair bows, hair clips—hard objects lodged on their heads to make themselves look softer. I have one, too—a fat, red barrette stashed in my bag. There are men who have been singing along to Journey since the seventies. There are theater people who look like Smash actors in crisp, buttoned outfits. There are boys wearing hats and vests and bow ties, all at the same time. There are girls with black nail polish, warming up with eyes closed, placing themselves back in their bedrooms (where they are safe, like I was, an only child with a Godspell soundtrack). There are older ex-theater people trying to look like young Smash actors. There are singing groups, High School Musical chirpers who can't stand still. They wear sneakers and tight sweatpants.
These are my people—all of them—though I don't really want to admit it.
At 7:00 am, I receive a wristband. At 9:30 am, it's time for our group to line up. I end up first in my line of 10 after three-and-a-half hours of waiting. The doors open and we march up concrete stairs. We fly down a hallway, then another, and are herded into a room the size of my kitchen. I was thinking Flashdance, a big airy studio with sunlight and six judges with spectacles and clipboards. But this is a windowless nook. A woman behind a laptop will watch us. Just one. She has dark spiky hair and a stiff handkerchief scarf around her neck, like a cowboy about to face a lot of sand. She's probably 15 years younger than me.
"Don't be offended if I don't look at you," she says. "I'm taking notes but I'm listening. And please don't be disappointed if you don't get a callback. I'll tell you at the end."
We'll each sing a verse and a chorus. First up is guy in his mid-40s who sings Journey's "Lovin' Touchin' Squeezin" in a grizzled, convincing way. I close my eyes because I can't bear to watch Lone Ranger not watching him. I'm having an involuntary Zen moment, focusing inward. It's just like being in Pigeon. I keep breathing.
"Whoop!" I say afterwards. I clap and then we all have to clap for each other.
Then I'm up. She calls me Laura and I don't correct her. I stand on the green X and say, "Willyoustilllovemetomorrowbycaroleking." Bright smile. I pat my thighs a little for the beat, which is a Godspell move, dorky.
I only want her to look at me.
She can't hear how I good I am yet, the subtlety of me, the thing you might hear if you spend an hour at my weekly gig in Lenox, listening with wine. But then she does look at me, at my loudest when I belt. She smiles a little in that second and I know I've reached her, but I don't know what else the smile means. Maybe she's laughing at how ridiculous I am, a 40-year old woman wanting to be on TV. Then I close my eyes because it's where I usually close my eyes, and the high head-voice note that I usually nail is a little wonky. I stop in a place that seems weird but I'm following the rules, verse and chorus only.
"Thank you," she says. Not my best. Everyone claps because I have started the clapping and they have to.
"I'm not going to move anyone on," says Kerchief at the end.
The air leaves the room. She doesn't apologize. There is scurrying; no one wants to linger except the earnest, handsome man, who says, "What can I work on?"
"Get a voice coach and a YouTube channel," she says. "You're just not ready for The Voice," she adds. It sounds like she's reading from her laptop, What to say to the losers.
I almost ask the same question, What should I work on? But I don't want her to read something from the list that I'll end up absorbing.
Instead, I begin to tell myself: Nothing's wrong with the piano bar. Eventually, I'll begin to believe it.
Non-attachment. This is one choice I have, a choice I consider as I walk from Eleventh Avenue to Fifth, my backpack heavy. So this was new territory for me, a pose I held, a pose I'm out of now. I breathe at the stoplights and try to feel sensation flooding back into limbs. I try to feel like myself again, but larger inside, spacious. I try to notice the land in there, rivers and mountains and swamplands—all of it.
In the Gershwin café, I order a scrambled egg sandwich on sourdough.
"Laura?" she calls when my order is up. The barista is a cool young thing with a hat, the kind Britney Spears made popular. I consider asking if she's heard of The Edge or the band that made him famous.
But I don't. I breathe. I release.
"It's Lara," I say. I'm starving.
© Kripalu Center for Yoga & Health. All rights reserved. To request permission to reprint, please e-mail editor@kripalu.org.
Lara Tupper, MFA, is the author of two novels, Off Island and A Thousand and One Nights, and Amphibians, a linked short story collection forthcoming in 2021.
Full Bio and Programs