Giving from the Heart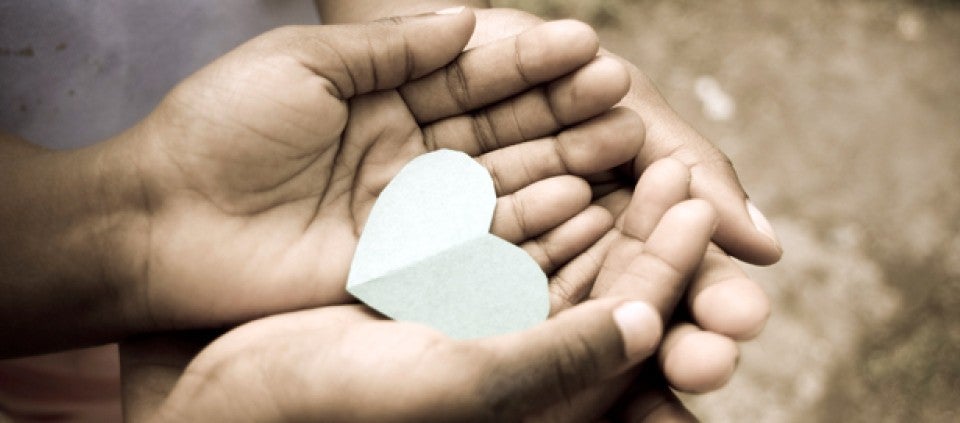 The holidays can be challenging for those of us who want to celebrate the season of giving in a way that feels authentic, and doesn't center on expensive gifts.
How can we show appreciation for our loved ones in a mindful way that's aligned with how we want to live our lives? Kripalu life, career, and wellness coach Izzy Lenihan says the first step is to listen to your intuition. How does a decision feel in your body?
For Izzy, the idea of exchanging a lot of presents with her extended family just didn't feel right. She felt a tightness in her throat when she thought about it, as if she couldn't breathe.
Then she came up with an idea.
"This year I asked that each of us pick one name out of a hat and then give that person one gift, in addition to donating $25 to a charity they might like," Izzy says. "Afterwards, my heart felt lighter, my throat chakra opened. It felt more meaningful."
Kripalu faculty member Maria Sirois likes to use the end of the year as a time of recycling by "literally going through stuff that doesn't fit and giving it away," she says.
Larissa Hall Carlson, Kripalu Schools faculty member and former Dean of the Kripalu School of Ayurveda, prefers to give gifts related to self-care (such as meditation CDs or Ayurvedic oils), or a present that allows her to spend time with people, like a private yoga session with her.
"Any way that we can show the people we love that we care—let's do it," Kripalu Yoga teacher Coby Kozlowski says. "The holidays can be a time of year to celebrate the people you care about and who care about you—and you don't have to spend a penny."
Coby likes to give homemade gifts: a handpicked flower, a stick figure drawing, or a song sung with love. Here are a few of her favorite gift ideas:
Write a letter telling someone what you love and appreciate about them.
Create recipe cards for your three favorite dishes and bundle them together with pretty ribbon (you can also include the main ingredient).
Volunteer at your friend's favorite local charity.
Make a photo slideshow of you and your loved one over the years.
Spend time together: Make a date to go for a hike or walk.
Invite friends and family over for a dinner party.
Bake homemade treats.
Give your time: Listen deeply to a friend in need.
© Kripalu Center for Yoga & Health. All rights reserved. To request permission to reprint, please e-mail editor@kripalu.org.