Guest Recipe: Almond Joy and Ginger Cookies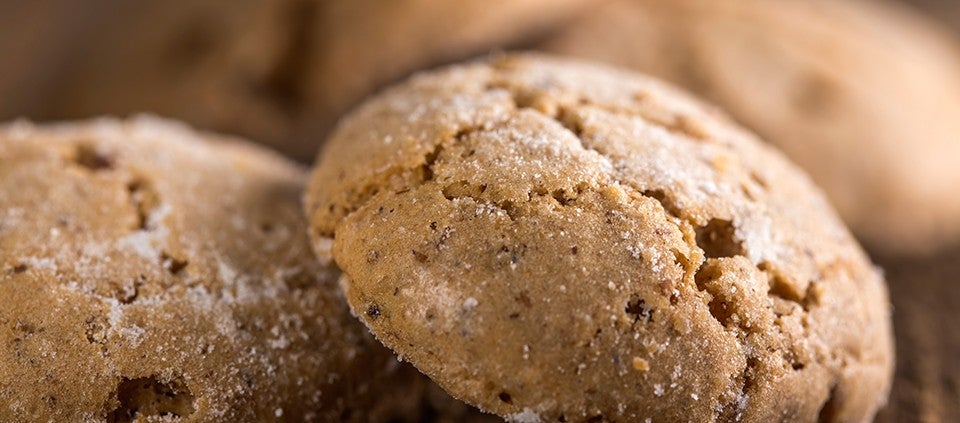 This cookie recipe is my absolute holiday standby. These crunchy, chewy, flourless cookies leave nothing to be desired. Fresh ginger adds a little kick and makes them easy to digest. For increased decadence, substitute chocolate chips for the cacao nibs.
Makes one dozen.
Dry ingredients:
¾ cup almond meal
¼ cup unsweetened shredded coconut
¼ teaspoon baking powder
⅛ teaspoon salt
¼ cup sucanat or coconut sugar
2 tablespoons cacao nibs
Wet ingredients:
1 egg
1 ½ tablespoons coconut oil
¼ teaspoon pure vanilla extract
1 teaspoon finely grated ginger
Grease a cookie sheet with coconut oil. Preheat oven to 375 degrees.
Mix the dry ingredients together.
Beat the egg with a fork until it expands slightly in volume. Add the remaining wet ingredients to the beaten egg.
Add the dry ingredients to the wet ingredients and stir just until they are combined.
Drop about one tablespoon of batter per cookie on the greased sheet, spread two to three inches apart.
Bake for 8 to 10 minutes. Cool before removing.
Kate O'Donnell is an Ayurvedic practitioner and the author of The Everyday Ayurveda Cookbook: A Seasonal Guide to Eating and Living Well.
Kate O'Donnell, an international lecturer and senior yoga teacher, is author of The Everyday Ayurveda Cookbook and Everyday Ayurveda Cooking for a Calm, Clear Mind: 100 Sattvic Recipes.
Full Bio and Programs