Guest Recipe: Curried Lentil Soup with Coconut Milk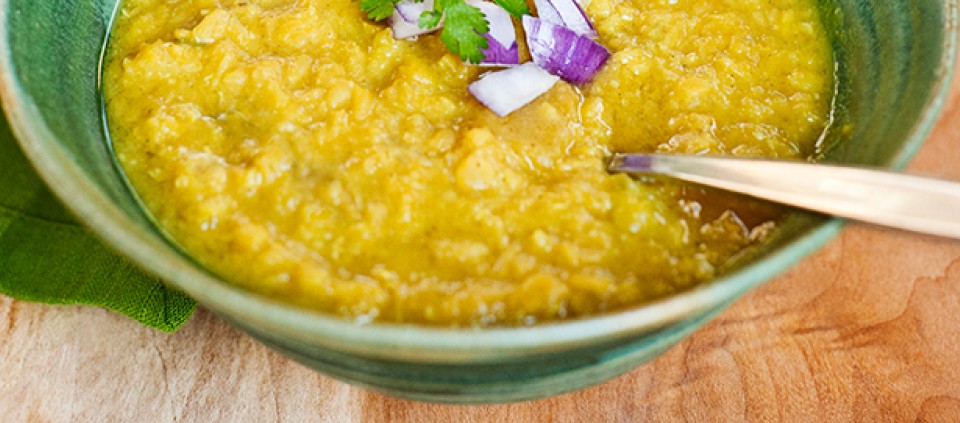 This week, we offer a warming winter recipe from chef Leslie Cerier. Known as "the organic gourmet," Leslie is an internationally recognized farm-to-table chef, recipe developer, educator, and author of six cookbooks. She specializes in local, seasonal, organic, vegetarian, vegan, and gluten-free cooking for health, vitality, and pleasure.
Leslie writes: For centuries, spices have been used to create delicious and nourishing meals. Some herbalists believe that the shape of a spice reveals its healing properties. Did you ever notice that ginger, turmeric, chilies, cumin, and dill seeds have the same shape as the stomach? These are some aromatic herbs and spices, also known as carminatives, which improve digestion and make zesty, globally inspired dishes. The key to making beans easier to digest is to cook them from scratch, adding sea vegetables like dulse along with carminative herbs and spices. Adapting this main course soup to the seasons is easy: You can use fresh tomatoes, summer squash, spinach, and eggplant in the summer; canned tomatoes, carrots, yams, or butternut squash in the fall and winter.
Serves 6–8.
1 cup red lentils, rinsed
2 cups water
1 cinnamon stick
2 tablespoons grated ginger
1 tablespoon seeded and coarsely chopped cayenne pepper
2 garlic cloves, finely minced or pressed
1 three-inch piece dulse or 1 tablespoon dulse flakes (optional)
1 cup coarsely chopped onions
10 cups bite-sized cauliflower florets
3 ½ cups coarsely chopped plum tomatoes
14-ounce can of coconut milk
1 teaspoon sea salt, or to taste
1 cup coarsely chopped cilantro (optional)
Place the lentils, water, cinnamon stick, ginger, cayenne pepper, garlic, and dulse (if using) in a 6-quart stockpot. Bring the ingredients to a boil, then reduce the heat to medium-low. Simmer, covered, for 15 to 20 minutes, or until the lentils melt and become yellow.
Add the onion, cauliflower, tomatoes, and coconut milk, and continue to simmer for 20 to 30 minutes, or until cauliflower is soft. Add the salt, and adjust the seasonings if needed.
Ladle the hot soup into bowls. Garnish with cilantro, if desired.
Recipe excerpted with permission from Going Wild in the Kitchen, by Leslie Cerier, © 2005, Square One Publishers, Inc.
Leslie Cerier, "the organic gourmet," is an internationally recognized farm-to-table chef, recipe developer, author of six cookbooks, and educator. She...
Full Bio and Programs