Guest Recipe: Energizing Hot Chocolate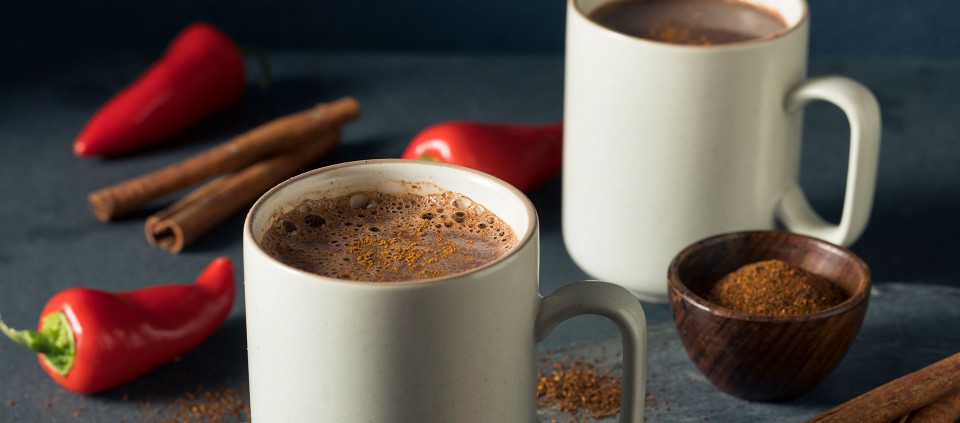 Cayenne, cardamom, and ashwaganda give this hot chocolate an extra warming kick!
4 cups raw milk or soy, almond, or coconut milk
5 tablespoons cocoa powder
1 teaspoon cinnamon
½ teaspoon nutmeg
Pinch of cayenne pepper
2 teaspoons ashwaganda powder
2 teaspoons raw maca root powder
3½ tablespoons maple syrup (or more to taste)
2 whole cloves
Pinch of salt
2 green cardamom pods
½ teaspoon vanilla extract
1 can full-fat coconut milk (for coconut creme)
Bring the milk to a simmer over medium-low heat. Heat slowly to make sure it doesn't boil over or burn.
Slowly stir in the cocoa powder, dissolving any clumps.
Add remaining ingredients (except for the can of coconut milk) and whisk well. Simmer for another five minutes.
Take off heat, remove the cardamom pods and cloves. Serve hot, with a dollop of coconut creme and a sprinkle of cinnamon on top. (To make coconut creme, put a can of full-fat coconut milk in the fridge; when cool, scoop the cream off the top.)
Sarajean Rudman, E-RYT 500, is a clinical nutritionist, Kripalu Yoga teacher, Ayurvedic practitioner, life coach, fitness instructor, and outdoor adventure guide.
Full Bio and Programs