Kripalu Recipe: Adobo Chicken or Tofu with Avocado Crème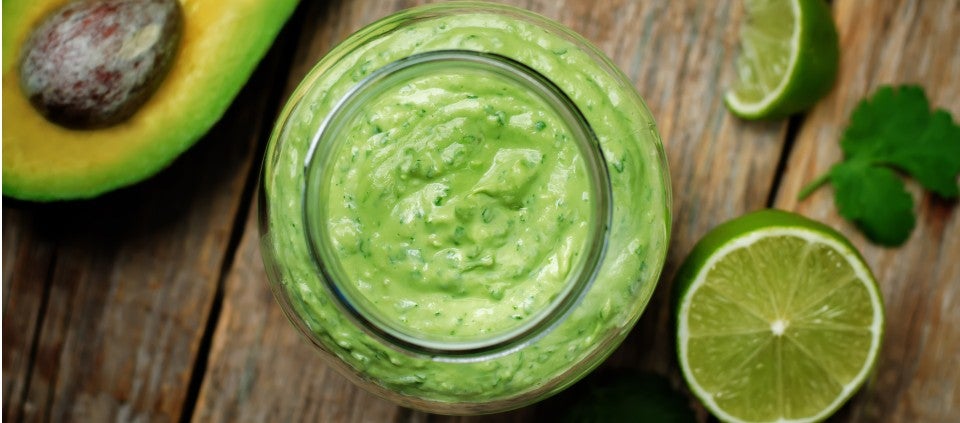 Enjoy a fresh summer entrée with the protein of your choice topped with a flavorful avocado sauce!
Chicken Ingredients
2 tablespoons fresh lime juice
2 teaspoons finely grated lime zest
2 teaspoons minced garlic
2 teaspoons coconut sugar or light brown sugar
1 tablespoon chili powder
1 tablespoon grapeseed oil or sunflower oil
1 pound protein (boneless, skinless chicken breasts or block of firm to extra firm tofu)
¼ teaspoon fine sea salt
Avocado Crème Ingredients
2 whole avocados, peeled and sliced
1 tablespoon fresh lime juice
¼ teaspoon hot sauce, preferably Cholula
1 teaspoon ground cumin
¼ teaspoon fine sea salt
¼ cup small diced tomatoes small diced, plus 2 teaspoons for garnish
1 teaspoon fresh chopped cilantro, plus sprigs for garnish
Preheat the oven to 350ºF.
For the chicken marinade, combine the lime juice and zest, garlic, sugar, chili powder, and 1 teaspoon of the oil in a medium bowl. Mix the ingredients to form a smooth paste. Add the chicken, turning to coat all over with the marinade. Let marinate at room temperature for 20 to 30 minutes.
For the avocado crème, combine the avocado, lime juice, hot sauce, cumin, and salt in a small food processor and puree until very smooth and lightly whipped. Remove from processor and fold in the tomatoes and cilantro.
Heat a large sauté pan over medium heat for 3 minutes. Swirl in the remaining 2 teaspoons oil. Sprinkle ¼ teaspoon salt all over the chicken, then add the chicken to the pan. Cook until the chicken is lightly browned on the bottom, 2 to 3 minutes. If the pan seems too hot or is smoking, lower the heat a bit. When nicely browned, use a spatula to flip the chicken, then spoon any remaining marinade over the top.
Transfer the pan of chicken to the oven, and bake until the chicken reaches an internal temperature of 165ºF, 6 to 8 minutes.
Remove the chicken from the oven, and let it cool for 3 minutes or so. To serve, thinly slice the chicken and fan it out on plates. Spoon a dollop of avocado sauce on top and garnish with the reserved cilantro sprigs and chopped tomatoes. Serves 4.
Jeremy Rock Smith, Kripalu faculty and a graduate of the Culinary Institute of America, began his career in classical French cuisine.
Full Bio and Programs