Kripalu Recipe: Butternut Squash Lasagna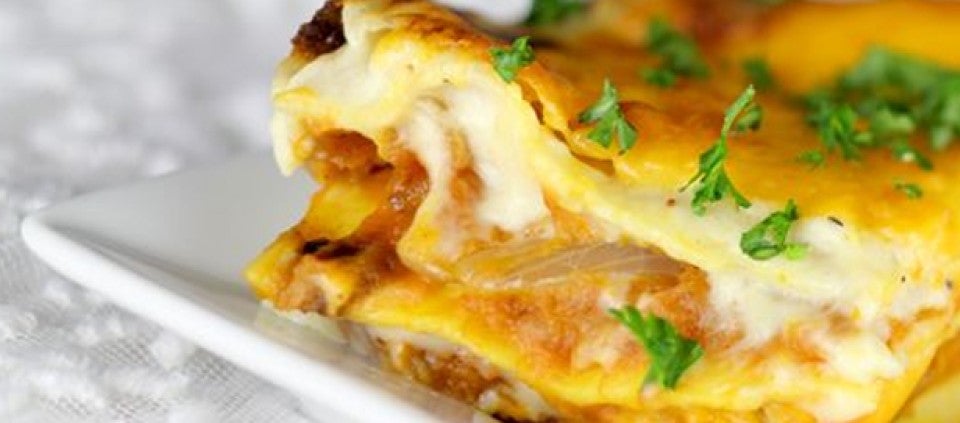 The combination of sweet butternut squash and creamy béchamel sauce will win fans every time.
Makes one 9x13-inch casserole
Filling
1 large butternut squash, peeled, seeded, and cut into medium dice
1 tablespoon extra-virgin olive oil
1 teaspoon cinnamon
1/2 teaspoon fennel seed
Pinch of sea salt
Pinch of black pepper
1 tablespoon fresh thyme leaves
Béchamel Sauce
4 cups whole milk
1/4 teaspoon nutmeg
3/4 teaspoon sea salt
Pinch of black pepper
3 1/2 tablespoons unsalted butter
5 tablespoons unbleached all-purpose flour
For assembly:
1 10-ounce package lasagna noodles
1 1/2 cups shredded mozzarella cheese
1/2 cup grated Parmesan cheese
Make the filling:
Combine the squash, oil, cinnamon, fennel, salt, and pepper in a large bowl and toss well. Transfer the squash to a baking sheet. Bake in a 350-degree oven until squash is soft, 18 to 20 minutes. Return the squash mixture to the bowl and stir in the thyme. Using a potato masher or fork, mash the squash well but leave some amount of chunkiness. Set aside.
Make the béchamel:
Heat the milk on medium temperature with nutmeg, salt, and pepper until warm. In a separate small, thick-bottomed pan, melt the butter, being careful not to burn. Slowly whisk in the flour and sauté for a minute on low heat. Slowly whisk the warmed milk into the flour and butter mixture, making sure there are no lumps. Simmer on very low heat to ensure it does not burn while you are preparing to use it.
Prepare the noodles:
Cook the lasagna noodles according to the package instructions. Cool slightly.
Assemble and bake the lasagna:
In a 9x13-casserole dish, layer in béchamel sauce, then noodles, then the squash filling, and then the mozzarella cheese. Repeat the layers using the remaining ingredients.
Pour the béchamel sauce on the top layer of noodles, spreading it to the edges. Sprinkle the Parmesan cheese evenly over the top. Cover with parchment paper and foil. Bake for 40 minutes in a 350-degree oven. Uncover and bake 5 minutes more. Let rest for 10 minutes and serve.